I don't know what it is about this time a year, but it makes me want pie! I can't get enough of it! Unfortunately its not a great idea to eat meat pie every day (now that would be a challenge...!) so here is my roasted vegetable pie.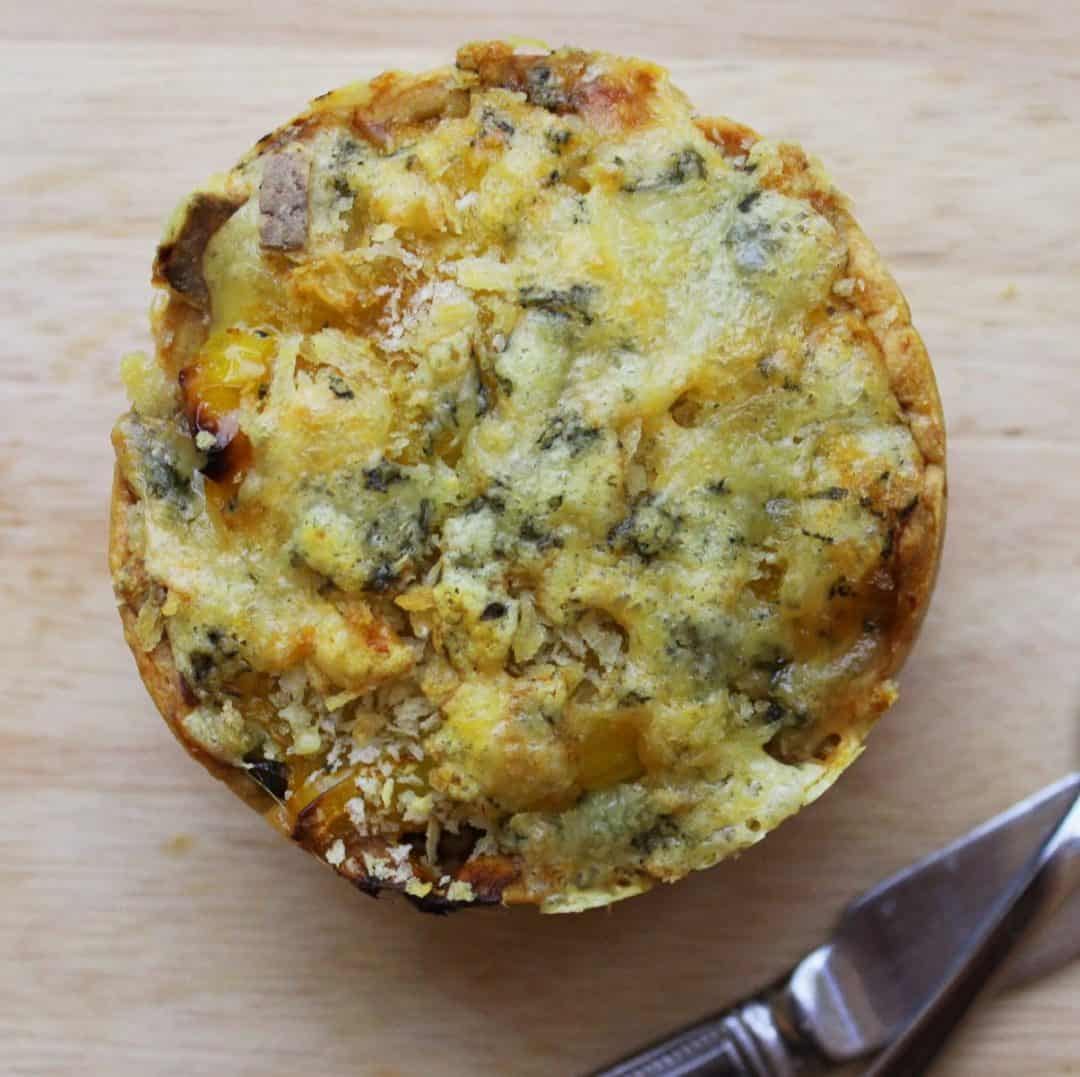 Layers of roasted veg, wrapped in a rich cheesy pastry case and topped off with stilton and crispy breadcrumbs. Each layer in this vegetable pie is packed with flavour - vegetarian food doesn't have to be bland people! I used the same recipe for the pastry as last weeks post of Venison Pie as it was so rich and tasty, but added in grated parmesan to give it something extra.
This vegetable pie doesn't have a sauce added in to it, because the roasted vegetables retain their moisture. The mushrooms are cooked in cream so the pie is beautiful and juicy without being weighed down by a heavy sauce.
This recipe makes two (generous!) personal pies, I cooked them in 10cm/4inch tins. If you don't have smaller tins, you can make one bigger pie, but these are great if you just want to cater for one person.
For more vegetarian recipes :
Cheesy Layered Roasted Vegetable Pie
A super tasty pie, stuffed full of roasted vegetables.
Print
Pin
Rate
Servings:
4
servings, 2 large pies
Ingredients
8.8

ounces

all purpose flour

(250g)

4.4

ounces

salted butter

(cubed) (125g)

2.1

ounces

grated parmesan

(60g)

1

red pepper

(deseeded and halved)

1

yellow pepper

(deseeded and halved)

½

eggplant (aubergine)

(cut in to 1cm slices)

1

fennel bulb

(sliced)

1

red onion

(sliced)

4

garlic cloves

(whole)

4.4

ounces

chestnut mushrooms

(finely sliced) (125g)

2

tbsp

fresh tarragon

(finely chopped)

2

tbsp

parsley

(finely chopped)

1.7

ounces

single cream

(50ml)

3.5

ounces

baby spinach

(100g)

1

garlic clove

(peeled)

1

tablespoon

English mustard

2

slices

of mozzarella

2.8

ounces

stilton

(80g)

handful of panko breadcrumbs
Instructions
Preheat the oven to 200º

First off, start with the pastry. Put the flour into a bowl and add in the cubed butter. Using your fingers rub the butter in to the flour until you have breadcrumbs. Add in the grated parmesan and mix well. Add a couple of tablespoons of cold water and start to bring the mixture together. Add a couple of tablespoons at a time until you have a non sticky dough. Wrap the dough in clingfilm and put in the fridge until needed.

Line a baking tray with foil and add the prepared peppers, aubergine, fennel, onion and garlic cloves. Drizzle with olive oil and and a good couple of pinches of salt and pepper. Put in the oven for 30 minutes until the peppers have started to colour. You want the vegetables to keep their firmness. When ready, take them out and put to one side to cool.

Put a glug of oil in a frying pan and put on a medium heat. Add the mushrooms and cook for 3 or 4v minutes until they start to colour. Pour in the cream and add the tarragon and parsley. Stir until there is no excess liquid. This won't take long at all, a minute tops. Leave to one side.

Heat a splash of oil over a high heat and pop your peeled garlic clove on to the end of a fork. Put a handful of ice cubes into a bowl and top with cold water. Add the baby spinach leaves to the saucepan and stir with the garlic fork (this will leave a nice subtle garlicky flavour). Stir until just wilted, then plunge the spinach in to the iced water. This will stop them cooking and they will retain their colour. Drain and leave to one side.

Turn the oven to 180º

Take the pastry out of the fridge and roll it out using a little flour to dust, until it is about thickness of a £1 coin. Cut in half (if you are using small cases) and lay the pastry over the top of the tins. Slowly work the pastry in to the tins being careful not to tear it. Trim the excess pastry, leaving a small amount of pastry overhanging to compensate for shrinkage. Pierce the bottom of the pastry with a fork a couple of times. Put baking paper in to the tins, fill with baking beans. Put in the oven for 15mins. After 15mins, remove the paper and beans and put back in for another 5 mins. Leave to one side once done.

Take the roasted garlic and squeeze in to a bowl and mash. Add the mustard and mix well.

Peel the skins off of the peppers and take the top layers of the fennel and onion off and discard. slice the onion.

Brush the inside of the pastry cases with the mustard and garlic mix. Then start layering the veg in the pastry dish, compressing each layer as you go. Aubergine, red pepper, spinach, mozzarella, fennel, onions, mushrooms, yellow pepper. Sprinkle over some breadcrumbs and top with crumbled stilton.

Put in the oven for 30mins until the stilton has melted and coloured. Finish under the grill if needed.
Notes
Nutritional values are based on one of four servings.
Nutrition
Calories:
711
kcal
|
Carbohydrates:
69
g
|
Protein:
23
g
|
Fat:
45
g
|
Saturated Fat:
26
g
|
Cholesterol:
112
mg
|
Sodium:
883
mg
|
Potassium:
1015
mg
|
Fiber:
8
g
|
Sugar:
6
g
|
Vitamin A:
4820
IU
|
Vitamin C:
114
mg
|
Calcium:
417
mg
|
Iron:
5.4
mg