What's movie night without popcorn?!  With the Oscar's quickly approaching, I though it only right to bring you this awesome list of popcorn recipes to make at home.  From popcorn for kids to make, to gourmet flavors for the adults, sweet to savory, to make in the microwave or on the stovetop and everything in between!
I'm totally looking forward to the Oscar's this year!  One of the benefits of moving from the UK to North America is that I can watch it live, rather than the highlights the next morning. In the UK, I think I managed to watch it once live - but that was when I was much younger, and staying up til 6am was no issue!!
As well as being big foodies, we are also big on film and we are huge fans of awards season, culminating in the biggest of them all.  Some of you may not know, but my background is in TV and film, as is Mr Slow The Cook Down's, and, fun fact, a film I worked on was nominated for an Oscar several years back! Some people get excited about the Super Bowl, we get excited about the Oscars!
Rather than make this a straight forward list of awesome popcorn recipes to make at home, I wanted to tie in some appropriate (and some of our favourite) movies to watch while munching them.  We had fun pairing these popcorn recipes with films, and maybe there'll be a film here you haven't seen yet! As well as linking to the beautiful popcorn recipes to make, I've also linked to clips from the suggested films so you can plan your own movie night!
Popcorn to make at home
Seen as we recently moved to Canada, it felt appropriate that the first popcorn recipe was this Maple and Bacon flavor from Salt and Baker. The film we paired this with was Canadian Bacon featuring John Candy!  Maybe not one Candy's most famous films, this comedy is based around the US and Canada going to war with each other.  Totally worth a watch if you haven't seen it before!
Next up is this beautiful Homemade Zebra Caramel Popcorn from The Gracious Wife blog. Pairing this with a film was a no brainer - one of my favourite animated films, 'Madagascar'.  The zebra, Marty, is probably my favourite character, and it's a film that always makes me giggle!
Time for a true classic now, Rainbow Popcorn from Fried Dandelions is the perfect match for The Wizard of Oz - the original with Judy Garland of course! Fun fact: I once played Dorothy in a school production - do my talents never end?! 😉
Let's keep things fantasy for a second, check out this awesome Unicorn Popcorn from Crayons and Cravings. I grew up reading the series of books by C.S.Lewis, so it felt natural to pair this with The Chronicles of Narnia - The Lion, The Witch and the Wardrobe.  When I'm rich I'd like a unicorn....
I totally fell in love with this Garlic Bread Popcorn from Mind Over Batter.  I love me some garlic bread and this flavour makes me feel things!  Now, it wasn't exactly obvious how to pair this one, but we did it!  Did you know Scott Pilgrim's favourite food is garlic bread?!  If you haven't seen Scott Pilgrim vs The World Yet, you need to check it out stat!!
Now I do like a bit of spice, and this Mexican Popcorn from Culinary Ginger is right up my street. What else is right up my street I hear you ask -  the recent Pixar / Disney animated film Coco. The film is colourful and fun and is all things Mexico - the perfect pairing I'd say!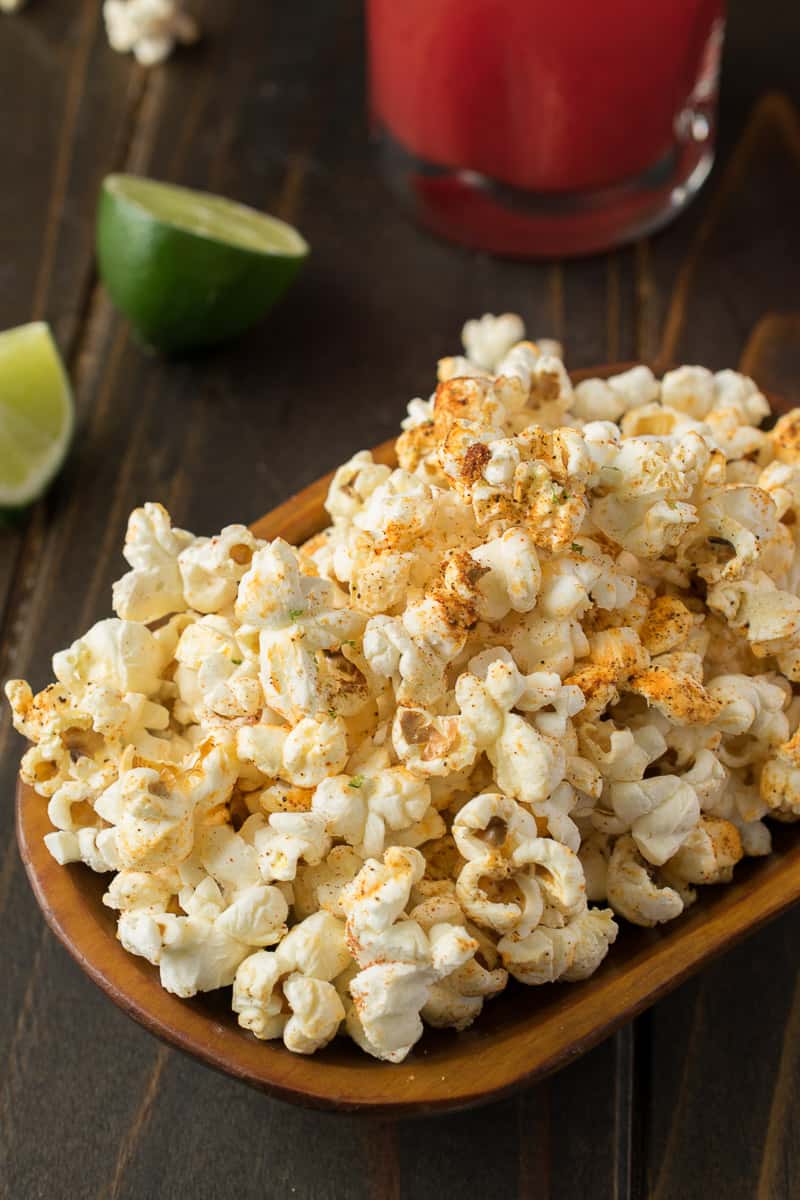 Let's get back to some sweet flavours, next up is Apple and Honey Popcorn bought to you by Family, Friends, Food. Now you may not want to watch this pairing with some members of the family, but I couldn't help to match it up with that comedy classic American Pie.  You know....for the apple scene....
Is there any finer ingredient that peanut butter?  Nope! Peanut Butter Popcorn from Cooking with Carlee is all kinds of awesomeness! What else is all kinds of awesomeness - Brad Pitt obvs!  In Meet Joe Black, Pitt's character eats peanut butter for the first time and it's cinema at it's finest!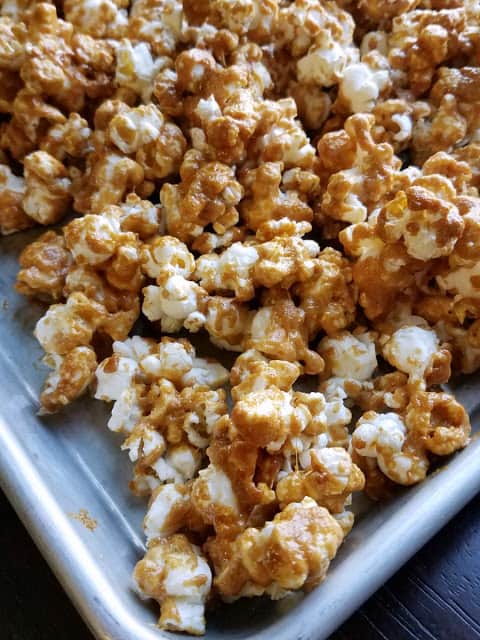 We aren't really into rom coms, but I couldn't not include this Valentine's Day Popcorn from Cook Eat Go.  So, rather than going for some soppy romantic movie, we chose the horror classic, My Bloody Valentine  - don't watch the clip if you are squeamish!!  Who said romance was dead?!
Let's stick with celebrations, check out this Santa Munch Christmas Popcorn from Curry Trail. There are so many films you can pair this with, I'm thinking Home Alone, Elf or Die Hard.  But we went with one that always makes us giggle, Bad Santa! A Christmas classic I tell thee!
I couldn't resist posting this next recipe, Pizza Popcorn from Simply Stacie is the perfect munching food! Who else likes pizza?  Heroes in a half shell!  Donatello, Michelangelo, Raphael and Leonardo - everyone's favourite crime fighting turtles who live in the sewer! There's more modern versions of The Teenage Mutant Ninja Turtles francise, but the 1990 one is the best - that song!!!
A huge thank you to all the bloggers involved in this list - I had so much fun compiling it and I hope you check out some of the movies suggestions soon!
If you are looking for more snack options, be sure to check out Crostini Canapés with Goats Cheese, Pull Apart Pizza Bread and Courgette Fritters & Hot Goats Cheese Dip.
Enjoy your popcorn!