Hi everyone!  I hope you all had amazing Christmas' and New Years?!  Now, I know lots of people will be looking to cut the calories in January, but personally, January is the time when I just want comfort food.  It's freezing in Toronto right now, it's been hovering around -20ºc for a few days, so I'm all about tucking up with some Netflix and eating cosy food!  I first published this recipe about 18 months ago, but felt it was due a revisit as it's so god damn tasty!  Time to get snuggled up with my indulgent Red Wine Risotto!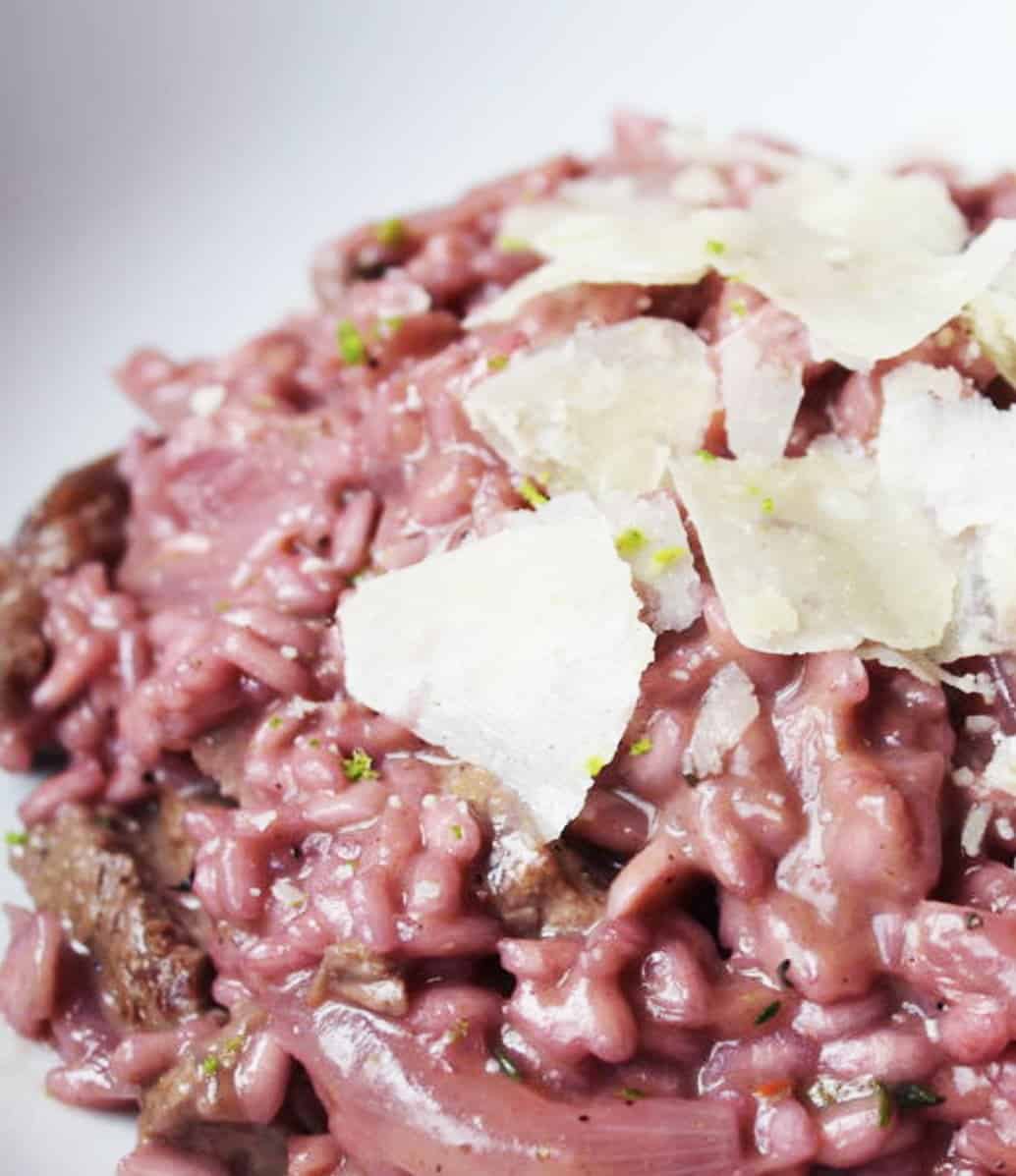 Red Wine Risotto - a twist on a classic Italian dish
Risotto is a classic Italian dish, and like all Italian dishes it's carb loaded perfect comfort food.  Traditionally it is cooked with white wine, so in true Slow The Cook Down style, I decided to mix it up and make red wine risotto, and oh my....you will never cook risotto with white again! The red wine brings an amazing rich depth of flavour to the dish and those colours make it feel super luxurious.
Can you use red wine in a risotto? - Of course you can!
Just because white wine is used more commonly used, it doesn't mean you can't use red wine in a risotto.  Red wine risotto has a richer taste than it's white wine counterpart, so it can perfectly handle some good quality steak mixed in.  However if you are catering for vegetarians or having a meat free Monday, you can just leave the steak out and substitute the chicken stock for vegetable stock.  It will still be delish, I promise!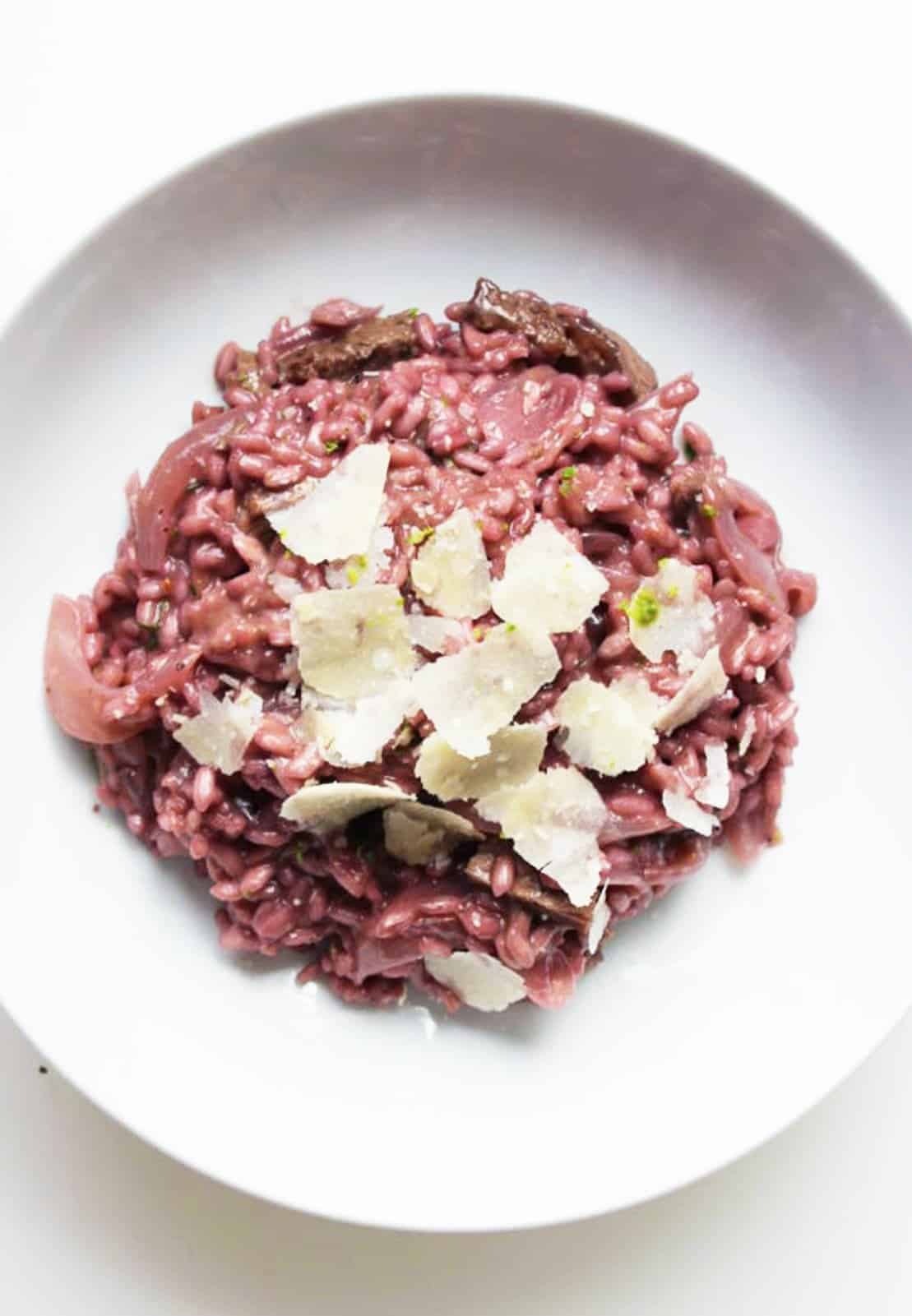 Red Wine Risotto - keep stirring!
I'm not going to lie, a good risotto is not something that can be thrown together in twenty minutes, make sure you set aside a good a hour to give it all the love it needs.  I love making risotto, I find something super calming in the seemingly never ending stirring of the rice.  The more you stir the creamier it gets, so enjoy the experience and you will enjoy the eating!
A few simple, store cupboard materials make up this tasty dish. The steak is perfectly tender and the rice is creamy and rich. Comfort food with an added wine hug.  Win!
If you are looking for other main course ideas, check out my Stuffed Chicken One Sheet Meal, Coffee Marinated Steak Stuffed with Lentils & Blue Cheese or my Beef Stir Fry with Rainbow Veg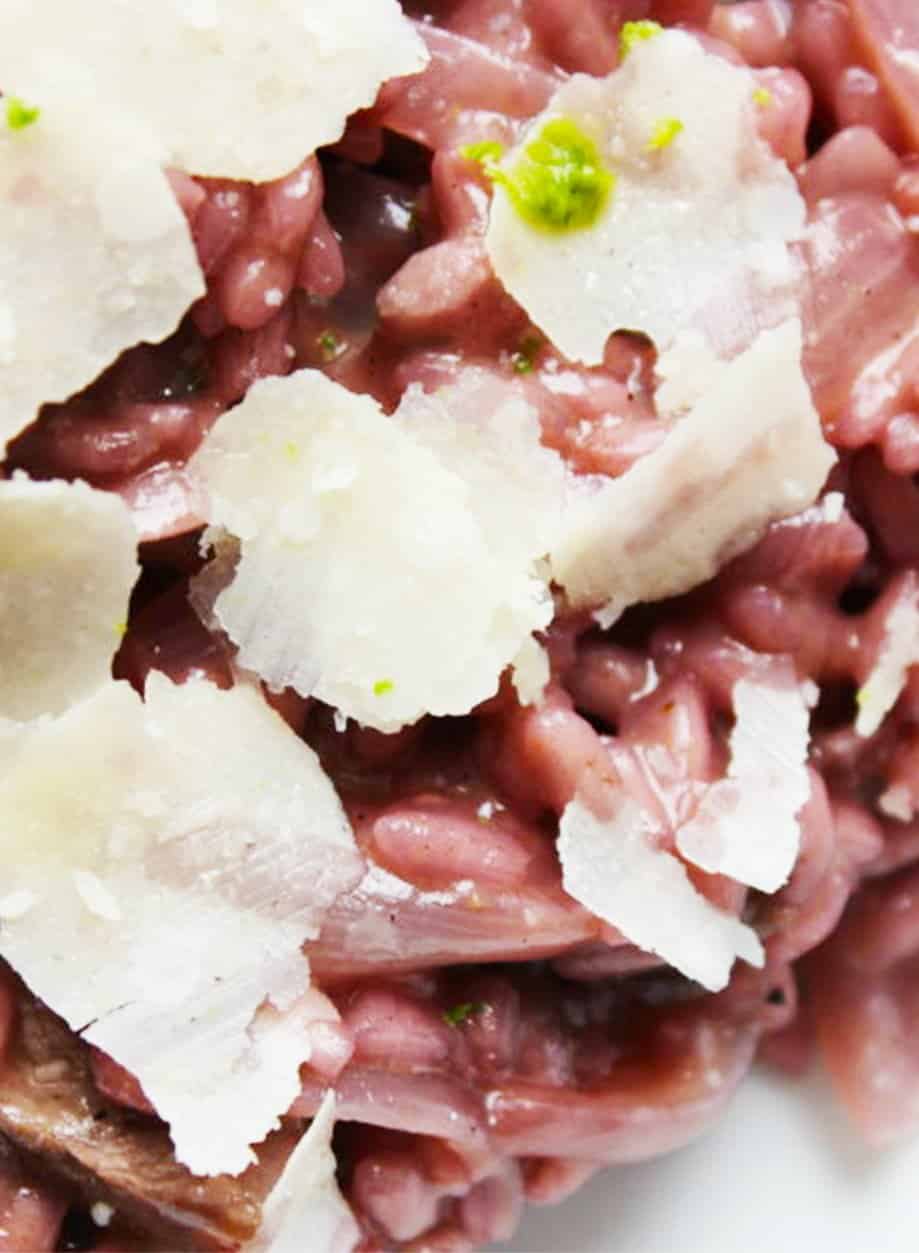 Red Wine Risotto With Steak
A delicious and hearty risotto is perfect comfort food for cold nights. Rich, tasty and truly decadent
Print
Pin
Rate
Ingredients
8 to 9

ounces

Ribeye steak

(about 250g)

3.5

ounces

salted butter

cubed (100g)

1.6

pints

chicken stock

(750ml)

1

onion

finely sliced

2

cloves

garlic

finely chopped

7

ounces

risotto rice

arborio, carnaroli or vialone nano (200g)

6.75

ounces

red wine

(200ml)

5

sprigs of thyme

tied with kitchen string

1

tablespoon

creme fraiche

salt and pepper

lime zest
Instructions
Lay the steak on a sheet of clingfilm, and lay another sheet over the top.  Using a meat tenderiser (or rolling pin) bash the meat out until it is about ½ cm thick. Put a frying pan on a high heat and add in 50g of the butter.  When the butter starts foaming add the steak.  Fry the steak for one minute, then flip it.  Flip again after another minute, and then again, so that you have cooked the steak for 2 mins on each side in total.  Place to one side.

Make up the stock and put in a pan on a low heat to keep it warm.  Don't let it boil.

Put a frying pan over a low-medium heat and add in the rest of the butter.  Once hot, add in the onions and garlic and cook for about 5 minutes until they start to soften - don't let them go brown.  Stir in the risotto rice, add the thyme and cook for a couple of minutes.

Add in 100ml of the red wine and stir.  Keep stirring until the wine has absorbed, then add a ladle of the stock. Keep stirring and moving the rice constantly, this will really get it nice and creamy - it's worth the effort, I promise!  Once the stock has been absorbed, add another ladle of stock.  Repeat until you have used all of the stock and the rice is cooked - this will take around 30minutes - be patient!

In between stirring, slice the steak into strips around ½cm wide by ½ cm long.

Once the last ladle of stock has been absorbed, take out the thyme, and add the rest of the red wine, the juice from the lime, the creme fraiche, a good pinch of pepper and the steak strips. Stir, stir, stir until the red wine has been absorbed. Take off of the heat and let it sit for 5 minutes.

Serve in bowls, sprinkle with parmesan and grate over a little lime zest.
Notes
Nutritional values are based on one of four servings.
Nutrition
Calories:
606
kcal
|
Carbohydrates:
52
g
|
Protein:
20
g
|
Fat:
31
g
|
Saturated Fat:
17
g
|
Cholesterol:
95
mg
|
Sodium:
491
mg
|
Potassium:
520
mg
|
Fiber:
3
g
|
Sugar:
5
g
|
Vitamin A:
875
IU
|
Vitamin C:
10.9
mg
|
Calcium:
52
mg
|
Iron:
4.6
mg