It's no secret that I love wine, and the more I've found out about the complexities of it, the more I've tasted (and drunk!) the more enjoyment I get out of it!  My basic 'white wine for beginners' guide will help you move away from your usual order and start to discover all of the varieties out there!
White wine is often seen as a gateway into wine, before venturing into the heavier, bolder reds.  I did exactly that, and it's so easy to turn your back on whites - you see them as too light, or maybe too acidic.  Wine tasting got me back into enjoying white wines and realised that there's a whole load of amazing flavours out there.  White wine doesn't have to just be lady petrol!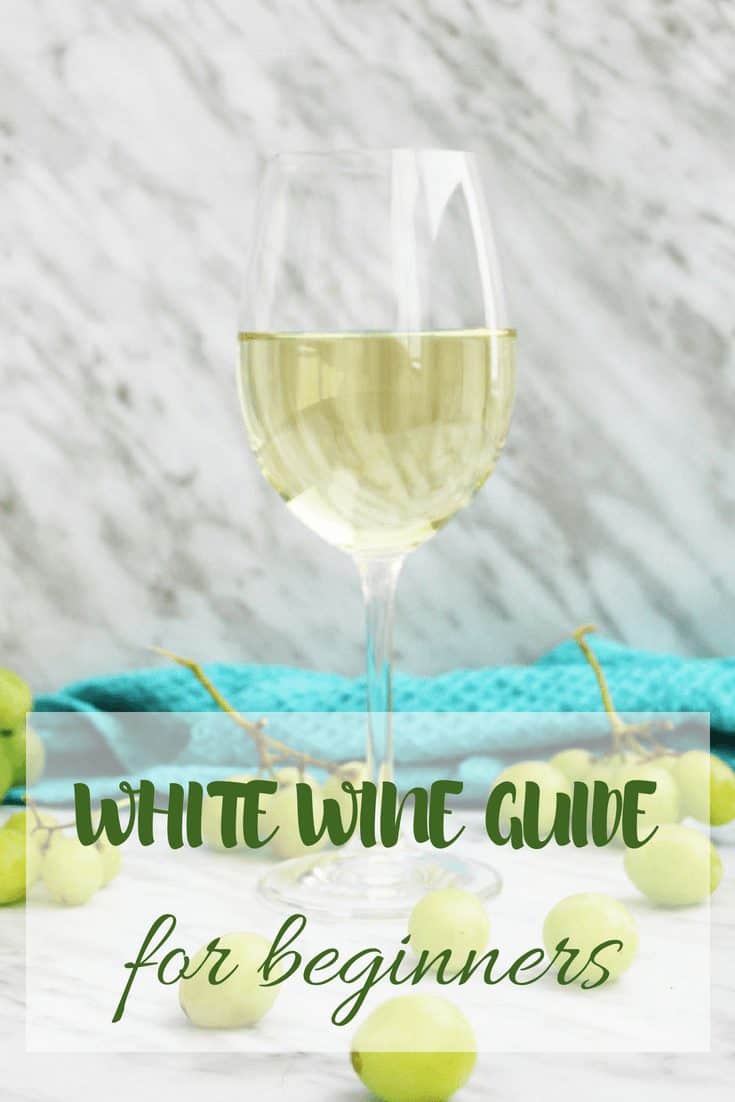 What foods should I pair white wine with?
It's fairly common knowledge that white wine should be paired with fish or chicken, and red wine served with red meats and heavier flavours, but that is not necessarily the case. The lighter white wines are perfect to be paired in this way, but a dry chenin blanc works perfectly with pork and pinot gris and duck work amazingly well together.  White wines are also the perfect accompaniment to a cheeseboard, as their sharpness cuts through the creamy dairy. Remember to always serve chilled.
Is White Wine Good for You?
Obviously...everything in moderation people!  Remember to drink responsibly 😉 but you may be surprised to know that white wine is higher in antioxidants than red wine! They can also help reduce cholesterol, aid weight loss and slow the ageing process.  Don't take my word for it though - check out this article written by cleverer people than I!
Popular white wines - how to drink and pair them
Chablis
Probably my favourite white wine! A dry white with hints of citrus
From the Chablis region in Burgundy, look in the French section of your wine store to get a bottle!
Pairs well with raw fish and fresh herbs - Chicken Tarragon will be a great pairing for this wine!
Pinot Grigio
Ah, my go to 'night out' white wine! Midly fruity with some acidity, pinot is a great table wine
Stick with mild seafood and chicken dishes with pinot grigio
For the best Pinot Grigio, go for an Italian or Californian.  The French varieties are much bolder in flavour
Chardonnay
I've always turned my nose up at chardonnay, but this wine has come a long way from in French origin. Full bodied and oaky with vanilla and fruit flavours.
Chardonnay will stand up to lots of flavors, creamy pasta and rich cheese dishes will sit perfectly along side a cold glass
France used to be the go to place for Chardonnay, but the Californian versions are much easier to drink
Sauvignon Blanc
If I'm in a restaurant I haven't been to, I will often go for a Sauv Blanc. French is light and dry, Californian is more oaky and Sauv Blanc from New Zealand is bold and fruity
Sauv Blanc will cut through cheeses like feta and goats cheese perfectly.  Lemon dishes will also be a great pairing.
California, New Zealand, Australia, Cali and France all do great Sauv Blancs.
I hope this white wine for beginners guide has helped you step out of your comfort zone to try new flavours.  If wine is your thing, be sure to check out my red wine guide!