Turmeric is such a versatile spice and can be used in so many dishes to create a wonderfully earthy and flavorsome recipe. These turmeric recipes are all really easy to make and they are a tasty way to enjoy this healthy ingredient. Whether you are looking for vegan or gluten-free recipes, or are on the mood for a smoothie, dessert, main course or cocktail, there's something here for you!
Turmeric is such an awesome ingredient to add into savory and sweet recipes. There's more to this Asian spice than curries, although it is pretty good in them! These recipes are all so vibrant and easy to make I can't wait to see which ones you make! A big thank you to all of my blogger friends who contributed to this delicious post!
What does turmeric taste like?
Turmeric has a slightly bitter and earthy taste with a hint of sweetness. Take care not to over do it, as it can easily overpower dishes, but a bit of it makes these recipes come alive!
What are the health benefits of turmeric?
Turmeric is known for it's anti inflammatory affects. It can help lower blood pressure, act as an antidepressant and even help clear your skin. You can read more about the health benefits of turmeric here.
What does turmeric go with?
Turmeric works well when blended with other spices such as cumin and cardamom and works well alongside cilantro and basil. Ginger and orange work wonderfully with turmeric and you will see a lot of those flavors here. You can never go wrong if you pair it with coconut milk and it's a great rub on all sorts of meat.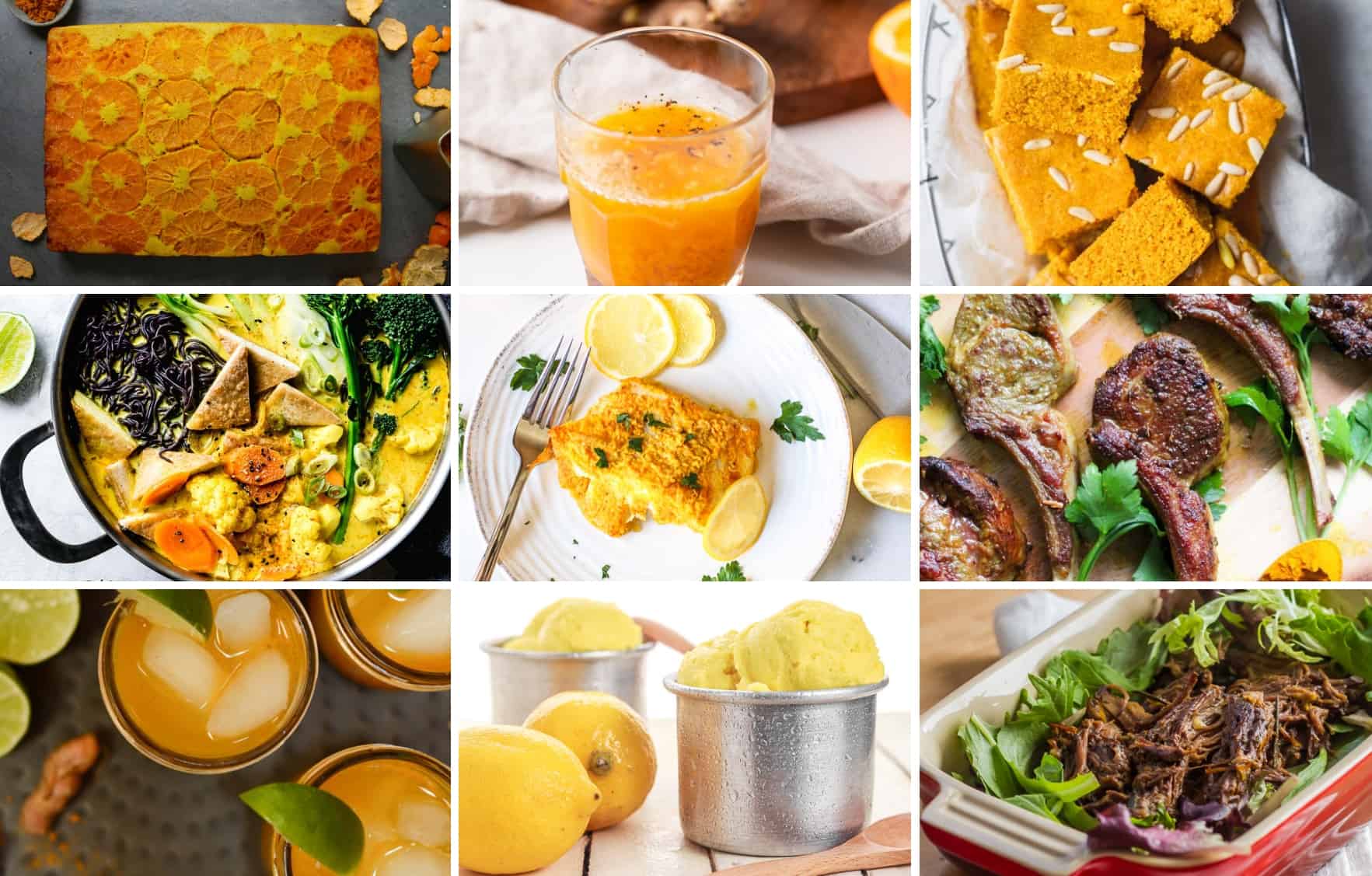 Turmeric (No Booze!) Drink Recipes
Ginger Turmeric Lemon Tea by Slow The Cook Down
This easy turmeric tea recipe is made with simple and fresh ingredients. Ginger, honey and lemon combine with spices to create an anti-inflammatory hot drink that helps to boost your immune system. Perfect if you are fighting a cold or want to soothe a sore throat. Full of health benefits and great for a detox. Ready to drink in less than 5 minutes.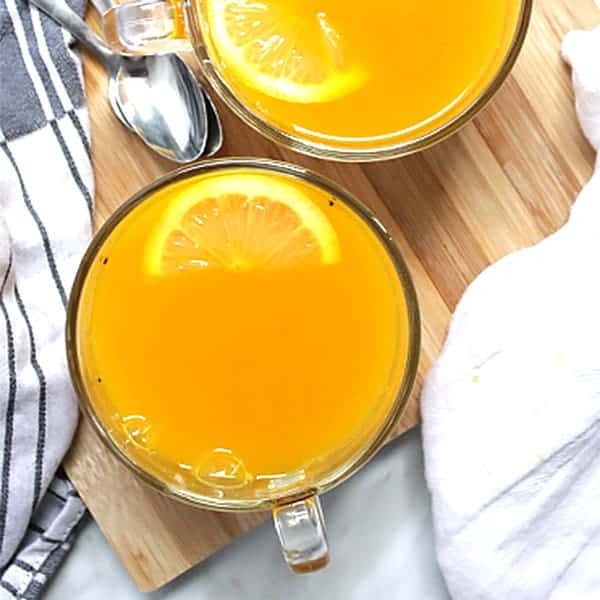 Anti Inflammatory Smoothie by Slow The Cook Down
This super refreshing and zingy Anti Inflammatory Smoothie is not only super tasty but it's amazingly good for you as well! This drink is packed full of fresh ingredients that will brighten your skin and leave you feeling energized.
Immune Booster Shot Recipe by 40 Aprons
This immune booster shot recipe has everything you need to raise that immune system and fight off viruses come cold and flu season! With everything from garlic and ginger, to lemon and orange juice, to apple cider vinegar, honey, and turmeric, it's jam packed with immune boosting ingredients.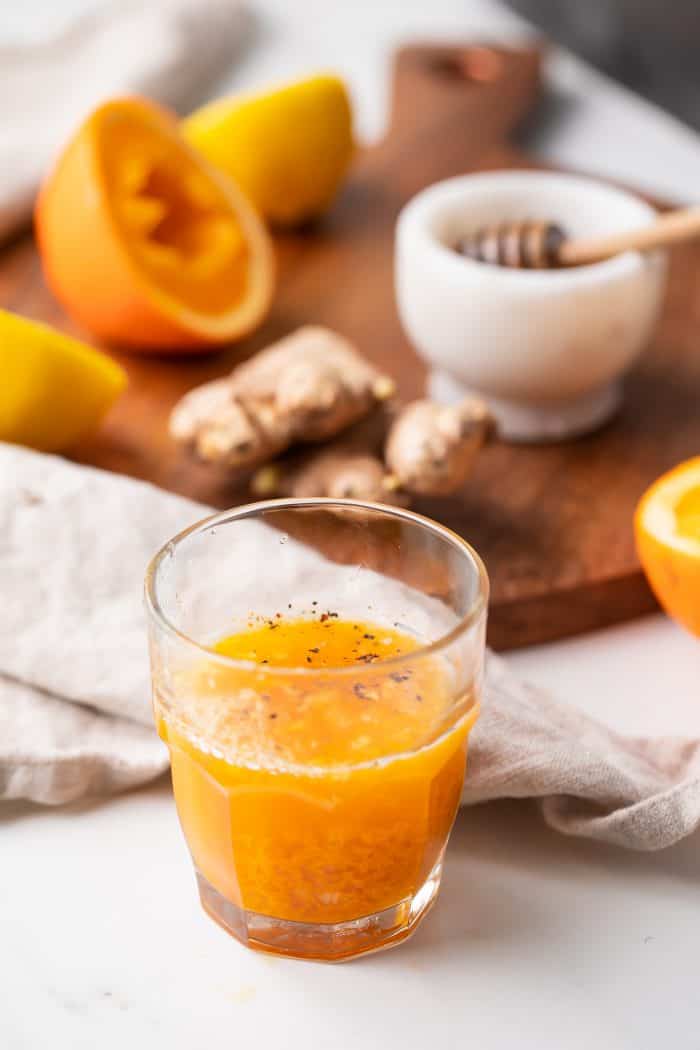 Turmeric Beet Juice by Cafe Johnsonia
Pep up your fresh beet juice by adding in fresh ginger, turmeric, cilantro, lemon, and a good pinch of black and cayenne peppers. This Turmeric Beet Juice is like the ultimate cleanse juice. Each ingredient helps aid your body in its natural detoxification process. It is also chockfull of vitamins and nutrients with anti-oxidant and anti-inflammatory benefits. And furthermore, it's really tasty!
Vanilla Turmeric Latte by Ambitious Kitchen
Creamy turmeric latte with hints of vanilla, cinnamon, nutmeg and cardamom. There's a sprinkle of cinnamon on top and a golden hue that makes me feel like I'm drinking a cup of sunshine. Golden milk moustaches all around.
Vegan and Vegetarian Turmeric Recipes
Chickpea & Spinach Curry with Coconut Milk by Slow The Cook Down
This easy, one pot chickpea & spinach curry is packed full of flavour for a great, no fuss weeknight dinner. Inspired by Indian cuisine, this healthy vegan curry is quick to make and also perfect for meal prep.
Green Lentil Daal by Slow The Cook Down
This green lentil daal recipe is Indian inspired and packed full of tasty spices. It's ready in less than 45 minutes, made in one pot and perfect for meal prep. It also happens to be vegan, so it's perfect for your meat free Monday!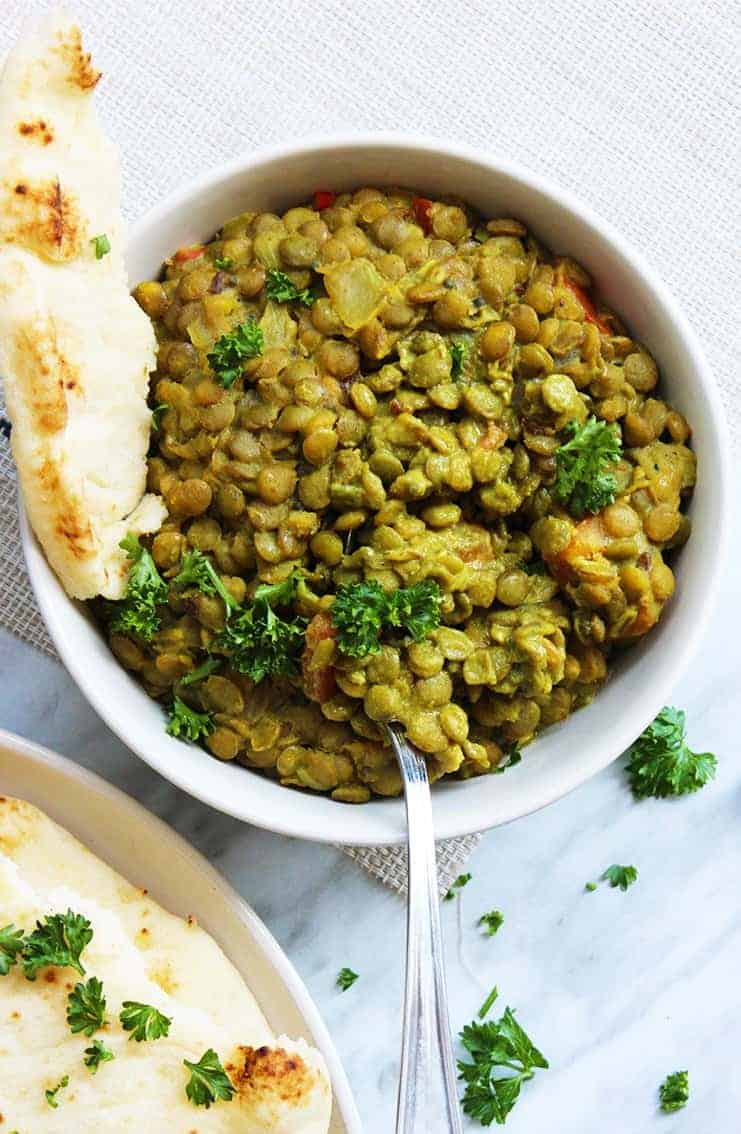 Vegan Coconut Curry Noodle Soup by Bojon Gourmet
This vegan coconut curry noodle soup combines a creamy, spiced golden broth with loads of veggies, crispy tofu, and oodles of noodles. A nourishing one-dish meal that's naturally gluten-free, vegetarian, and made with easy to find ingredients.
Combine turmeric quinoa with fresh kale, turmeric roasted potatoes, paprika roasted chickpeas, and a delicious avocado for the most epic power bowl!
Fish and Meat Based Turmeric Recipes
Creamy Tomato and Turmeric Chicken by Slow The Cook Down
Creamy Tomato and Turmeric Chicken is an easy skillet recipe and perfect for a quick and tasty weeknight meal. Chicken is marinated and cooked with a coconut milk sauce for a flavorful curry like recipe with Indian influences. A simple 30 minute recipe that the whole family will love.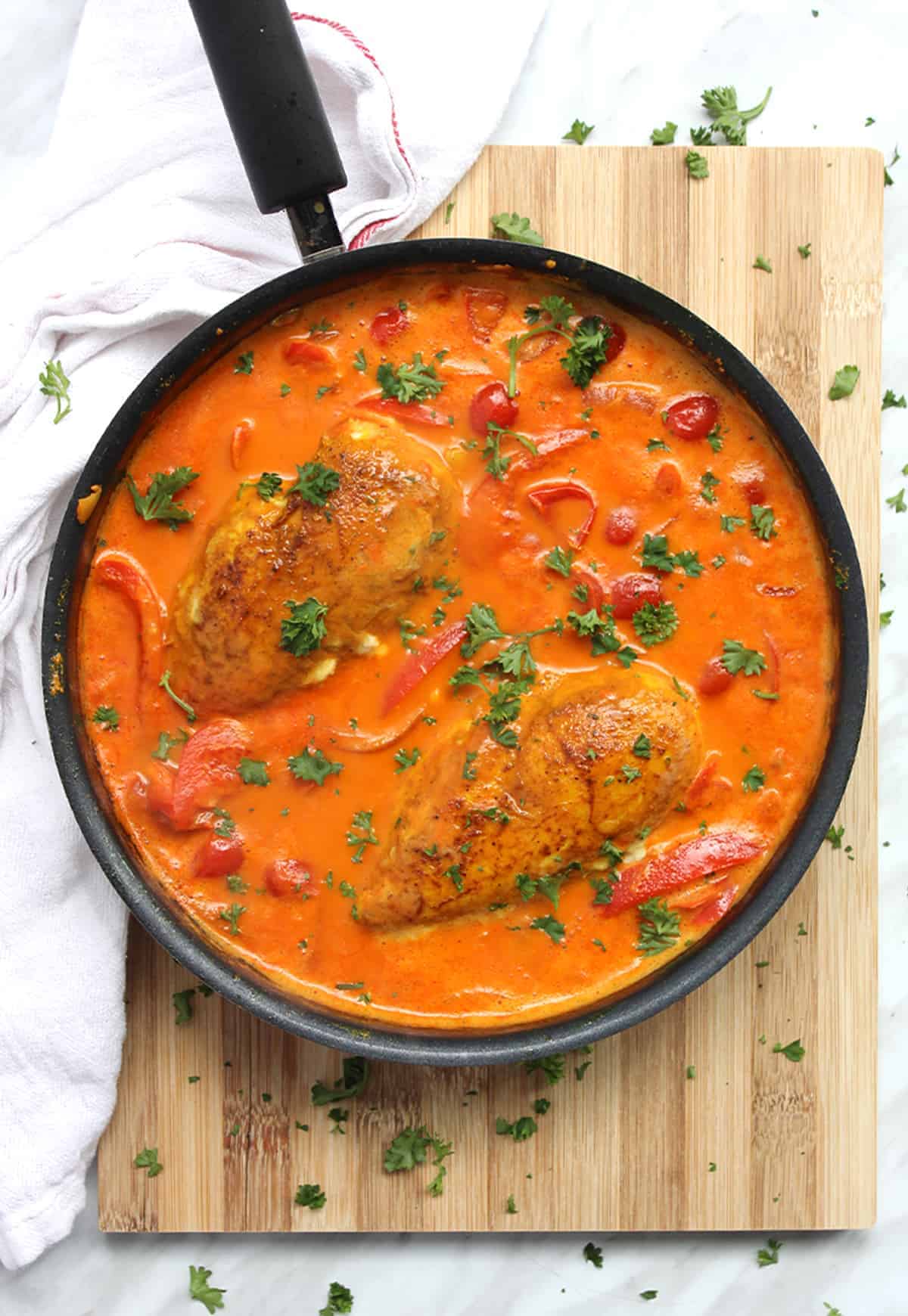 Turmeric and Herb Pulled Beef by Pastured Kitchen
This slow cooker chuck roast is loaded full of flavor and simple to make with just a handful of ingredients. Perfect to serve with a fresh salad or pile into sandwiches.
Roasted Turmeric Cod by Kitchen Of Youth
This recipe is idiot-proof. This is perfect for me because, even though I'm a chef, I love to make easy recipes. So simple. So delicious. So pretty. And, it makes for awesomely good leftovers!
Pounded pork tenderloin gets a marinade of garlic infused yogurt, honey, lemon juice and turmeric for this Honey Turmeric Pork Cutlet that gets topped with a fresh, bright Rainbow Beet and Carrot Salad for an all in one meal. Visually beautiful and wickedly tasty!
Turmeric Garlic Pan Fried Lamb Chops by What Great Grandma Ate
If you are looking to feed a group with a quick recipe, these paleo and Whole30 Turmeric Garlic Pan Fried Lamb Chops are easy to make and so juicy and delicious!
Turmeric Dessert Recipes
Upside Down Orange Turmeric Cake by Milk and Cardamom
Orange and turmeric works so well together! This cake is so easy to make and full of wonderful flavors.
Sfouf (Turmeric Cake) by Feel Good Foodie
Sfouf is a Middle Eastern semolina turmeric cake, made with simple ingredients, no eggs and no butter. It's vegan-friendly, light and simply delightful! It's a simple plain cake with mild flavors and not at all sweet – the perfect light dessert or snack to go with your cup of coffee!
Ginger, Turmeric, Lemon Cream Bars by Unconventional Baker
Some days are made for lemony things. Like lemon bars topped with a lemony cream layer. But what if you're feeling like something a bit more zingy? Try tossing some turmeric and ginger into the mix and you end up with a beautiful thing.
Lemon Turmeric Sorbet by Ahead Of Thyme
Nothing cools you down better in the summer than a bowl of ice-cold lemon turmeric sorbet. Just typing out those words makes me feel more refreshed already!
Dark Chocolate Golden Milk Macaroons by Minimalist Baker
All of the flavor of turmeric golden milk infused in a coconut macaroon dipped in dark chocolate! A simple, 30-minute dessert with serious health benefits!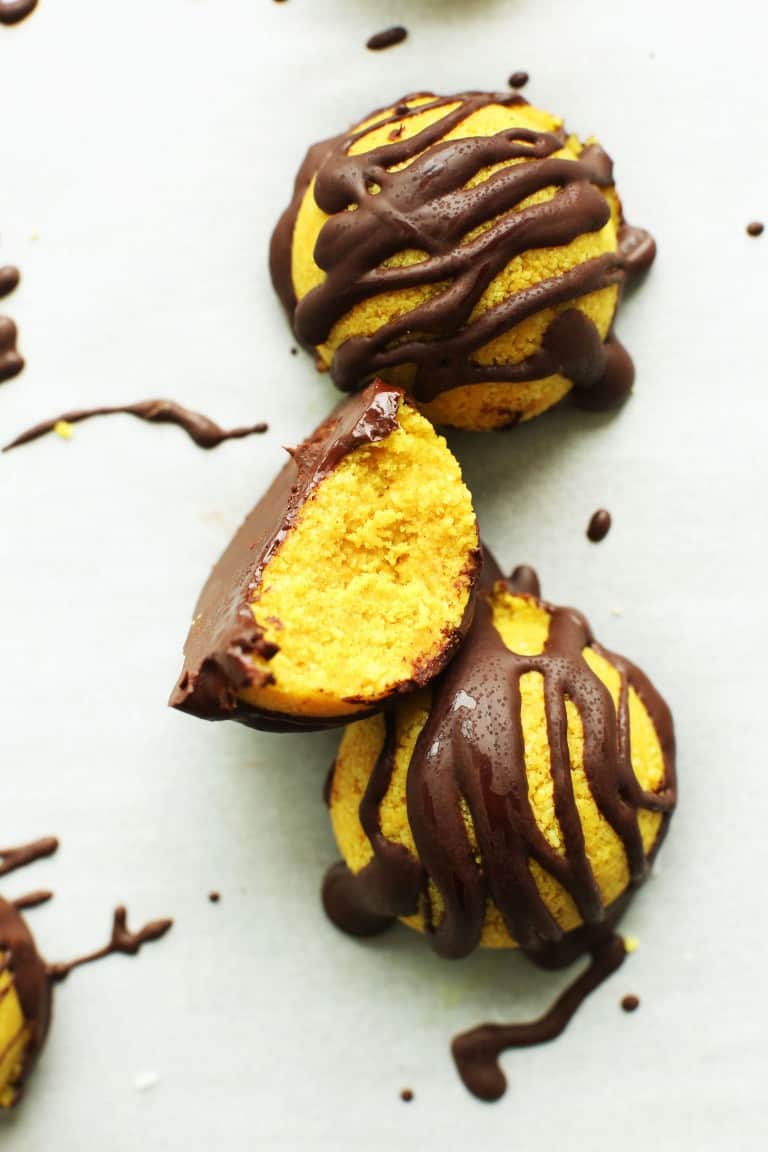 Turmeric Cocktail Recipes
This refreshing Turmeric Gin and Ginger Cocktail features turmeric, ginger beer and gin, delivering loads of health benefits in a tasty libation.
Orange Turmeric Margaritas by Vintage Kitty
Orange Turmeric Margaritas are a sweet and smoky take on the classic cocktail. Homemade simple syrup. fresh juice and a salty, spiced rim make these drinks extra special but are still easy to make.
For more recipe collections:
For more tasty treats, food inspiration and fun, be sure to follow me on Facebook, Instagram, Twitter and Pinterest – come say hi!
Be sure to keep in touch and sign up to Slow The Cook Down to grab your free e-book 'Stress Free Recipes Made For Sharing'