Summer is here and that means chips and dips! This recipe for fresh corn salsa with avocado is easy and fast to make and packed full of tasty ingredients.
Healthy and creamy, this relish is perfect to top tacos and fish dishes and yummy enough to serve straight up with with some tortilla chips.
It just takes 15 minutes to prep, is gluten-free, vegetarian and easily made vegan.
There's been an abundance of fresh corn in all of the stores here, and I've been racking my brains for some great recipes! There's just something about opening up a fresh ear of corn that signals summer for me, and I love the crunch you get when you bite into a kernel!
This is quite literally summer in a bowl. Creamy and packed full of fresh Mexican flavors, this is a dip you need to be serving! We are bang in the middle of corn season right now, so make the most of this yummy summer veggie!
This salsa is perfect served on top of my Carne Asada Tacos and Fried Shrimp Tacos or simply serve it up as a dip with a pile or tortilla chips. 
Why you will love this recipe!
Quick and easy: It takes no more than 15 minutes to make up a big batch of this corn and avocado salsa, plus, there's no cooking involved!
Made for sharing: This is a great side to serve up as an appetizer for cookouts and BBQs, and it's a must for game day!
Make ahead: This is a great make ahead dip, that you can make a day ahead of serving.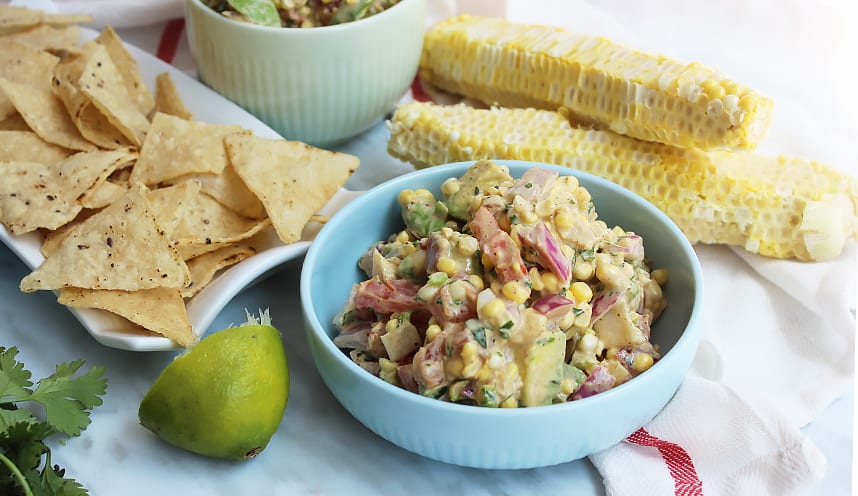 Ingredients
Corn: I used fresh corn, straight off the cob. No need to grill it, just slice of the kernels. If you are in a pinch you can use canned or frozen.
Avocado: Use a perfectly ripe avocado. It helps to get the salsa really creamy.
Tomatoes: Large ripe tomatoes on the vine are best. Cherry and plum will also work well.
Red Onion: Finely sliced. I love the color it adds and it has a nice mild flavor.
Jalapeno: I like to add in some fresh sliced jalapeno for some heat. If you are sensitive to spicy food you can omit these.
Lime Juice: No Mexican dip is complete without lime juice. Always use fresh juice for the best flavor.
Mayonnaise: For a creamy texture.
Cilantro: Cilantro leaves add a herby freshness to each bite. If you hate cilantro, swap this out for some parsley.
Seasonings: Chili powder, salt and pepper
How to make Fresh Corn Salsa
Ok guys, this one really couldn't be any easier!
Simply prep and chop all of the veggies and herbs and dump into a bowl along with the rest of the ingredients. Mix well and then pop in the fridge for at least half an hour to let all those wonderful flavors develop.
Creamy Corn Salsa
I wanted to make this delicious dip with a creamy edge, and a little mayo does wonders! It helps bind all of the ingredients together while still letting all of those fresh flavors shine through. The avocado also adds a little creaminess to the finished dish. This is such an easy and fast recipe to make and it's super zingy!
While this dip is perfect by itself and a pile of tortilla chips, it also works as a great topping for tacos. It contains a bucket load of fresh Mexican flavors to really make your tacos sing!
I would wager too. that this would work wonderfully as an accompaniment to grilled fish.
Dietary Information
This recipe makes enough for eight servings, and each serving comes in under 150 calories. Sweetcorn is a great source of fiber and protein, as well as a tonne of healthy minerals and the avocado adds in some healthy fats and potassium.
If you want to cut down on more calories and fats per serving, feel free to use a low fat mayo.
To make it vegan, use a vegan mayonnaise, or you can omit completely for a less creamy salsa.
Frequently Asked Questions
How long does it keep?
Store this salsa covered in the fridge, it will stay freshest this way. I left mine in the fridge for 24 hours and it was still good to go.  The lime in the salsa helps to stop the avocado browning. I would advise against freezing it.
What do you serve with it?
This is a great dish to serve up along side a stack of tortilla chips and other dips like Roasted Jalapeno Guacamole and sour cream. It's also a great topper for tacos and would also be a great accompaniment to a fish dish.
Can it be served immediately?
You can serve this as soon as you make it, however, I advise that you pop it in the fridge for at least half and hour before serving to let all of those flavors meld together.
Can you make it with canned corn?
There's nothing quite like fresh corn, but if you are in a squeeze you can substitute in canned corn, just make sure that it's properly drained, rinsed and dried. You can also use frozen corn that is fully defrosted, and I find that this has a crunchier texture compared to canned.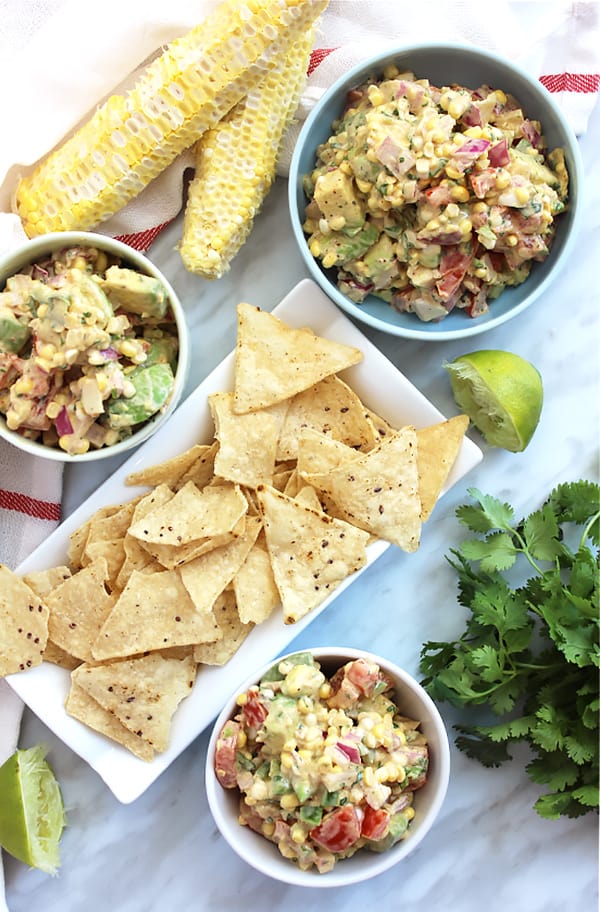 Recipe Notes and Tips
Use the freshest ingredients you can - it makes all the difference!
Do let the salsa sit in the fridge for at least half an hour before serving.
Add in an extra jalapeno if you like things spicy.
Taste after you've mixed the salsa and add more salt if you wish.

More Easy Mexican Inspired Dishes!
I love hearing from you!! If you have tried this yummy fresh corn salsa recipe, be sure to scroll down, give it a star rating and let me know what you thought!
For more tasty treats, food inspiration and fun, be sure to follow me on Facebook, Instagram, Twitter and Pinterest – come say hi!
Be sure to keep in touch and sign up to Slow The Cook Down to grab your free e-book 'Stress Free Recipes Made For Sharing'
Fresh Corn Salsa with Avocado
This recipe for corn salsa with avocado is easy and fast to make and packed full of fresh and tasty ingredients. Healthy and creamy, this relish is perfect to top tacos and fish dishes and yummy enough to serve straight up with with some tortilla chips.
Print
Pin
Rate
Ingredients
4

ears of corn

1

large ripe avocado

2

large tomatoes

½

red onion

1

jalapeno

juice of 1 lime

4

tbsp

mayonnaise

½

teaspoon

chili powder

3

tablespoons

fresh cilantro (coriander) leaves

salt to taste
Instructions
Using a knife, remove the corn kernels from the ears of corn and place in a large bowl.

Cut the avocados into chuncks and add to the bowl. Deseed and chop the tomatoes and add those too.

Finely dice the red onion and jalapenos and add those.

Squeeze over the lime juice, and add the mayonnaise, chili powder, fresh cilantro and several pinches of salt.

Combine the ingredients well, taste and add more salt if you wish.

Let the salsa sit in the fridge for half an hour if you can before serving.
Notes
Be sure to use fresh lime juice.
Let the salsa sit in the fridge before serving if you can, it will let the flavors develop.  You can keep it covered in the fridge for up to eight hours.
Nutritional values are based on one of eight servings.
Nutrition
Calories:
136
kcal
|
Carbohydrates:
13
g
|
Protein:
2
g
|
Fat:
10
g
|
Saturated Fat:
2
g
|
Cholesterol:
3
mg
|
Sodium:
60
mg
|
Potassium:
326
mg
|
Fiber:
3
g
|
Sugar:
4
g
|
Vitamin A:
445
IU
|
Vitamin C:
13.5
mg
|
Calcium:
8
mg
|
Iron:
0.5
mg