This easy white wine sangria recipe is perfect for summer drinks! Easy to make for a crowd and so refreshing! Made with a tonne of fresh fruits, a pinot grigio, white rum and apple juice.  This is the sangria you will be sipping on in the sunshine!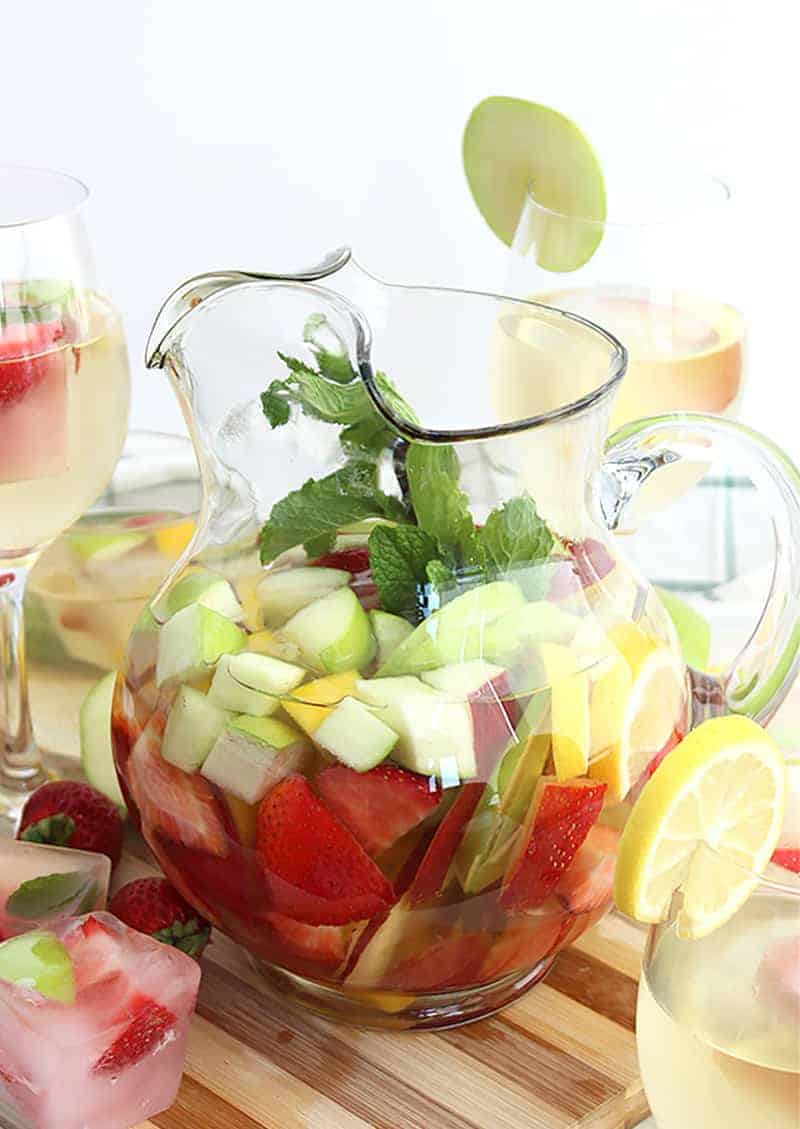 The first time I had sangria, I was unsurprisingly sold - after all, it's wine based! We took a long weekend break to Barcelona (back when I lived in the UK, I'm not made of money y'know!) and I made a list of all the things I wanted to put in my face; paella, patatas bravas, a plethora of cured meats and an authentic sangria! My gosh the Spanish know how do it, eh?!
I've had my fair share of sangrias since then, but not one of them have quite lived up to that first one, the fruit is mushy, it's made with a crap wine, there's zero alcohol in it...well no longer my friends, for this white wine sangria recipe is about to knock your socks off!
If you prefer your sangrias red, check out my spiced red wine sangria recipe.
How to make this White Wine Sangria Recipe - step by step
For the fruit ice cubes
For a bit of added flare, the ice cubes I added to the glasses had pieces of fruit in them - they help cool the drink and are super pretty! Simply chop up pieces of the fruit you are going to use in the sangria and pop them in large ice cube trays (use big ice cube trays, they hold more fruit and don't melt as quickly). Fill them with water and pop them in the fridge.  Do this a good 4 -6 hours before you are going to serve the sangria so they are solid.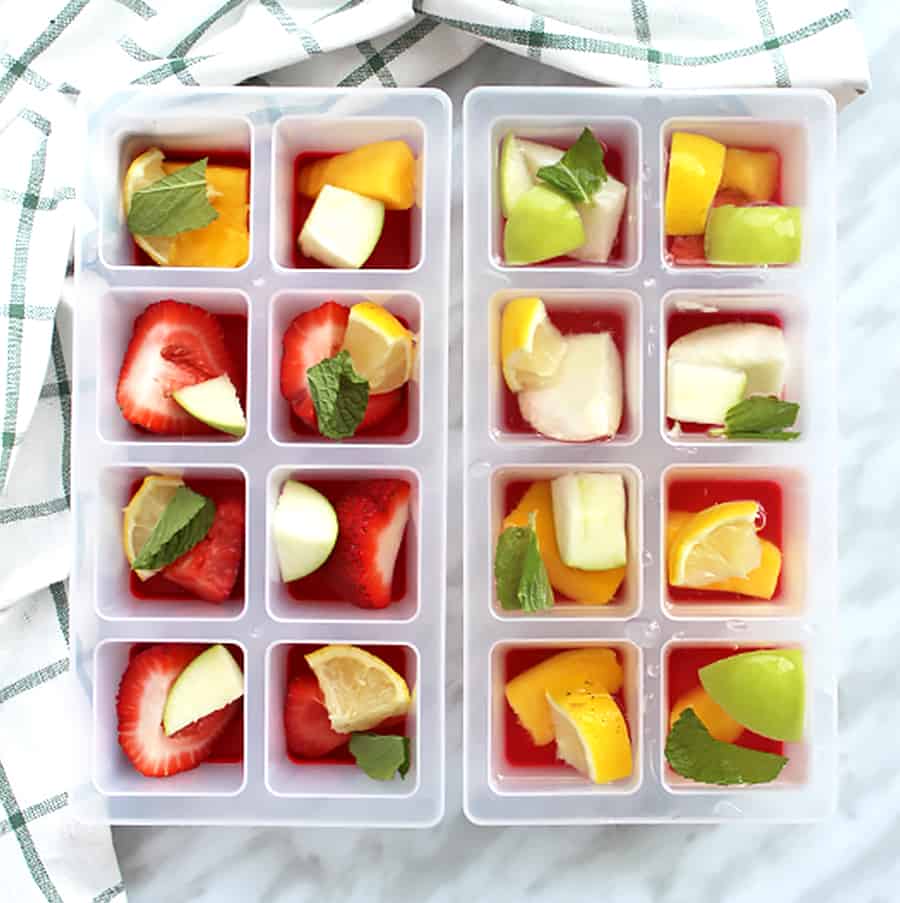 To make the white wine sangria
Ok, making sangria is not hard, you just have to have the right measurements!
First up, chop all the fruit (see the recipe below for the fruit used), I like to slice some and chunk some so you have different shapes and sizes. Pop it in a giant jug.
Pour over the rum, the apple juice, and then in with the wine! Give it a good stir, and some fresh mint and in the fridge it goes!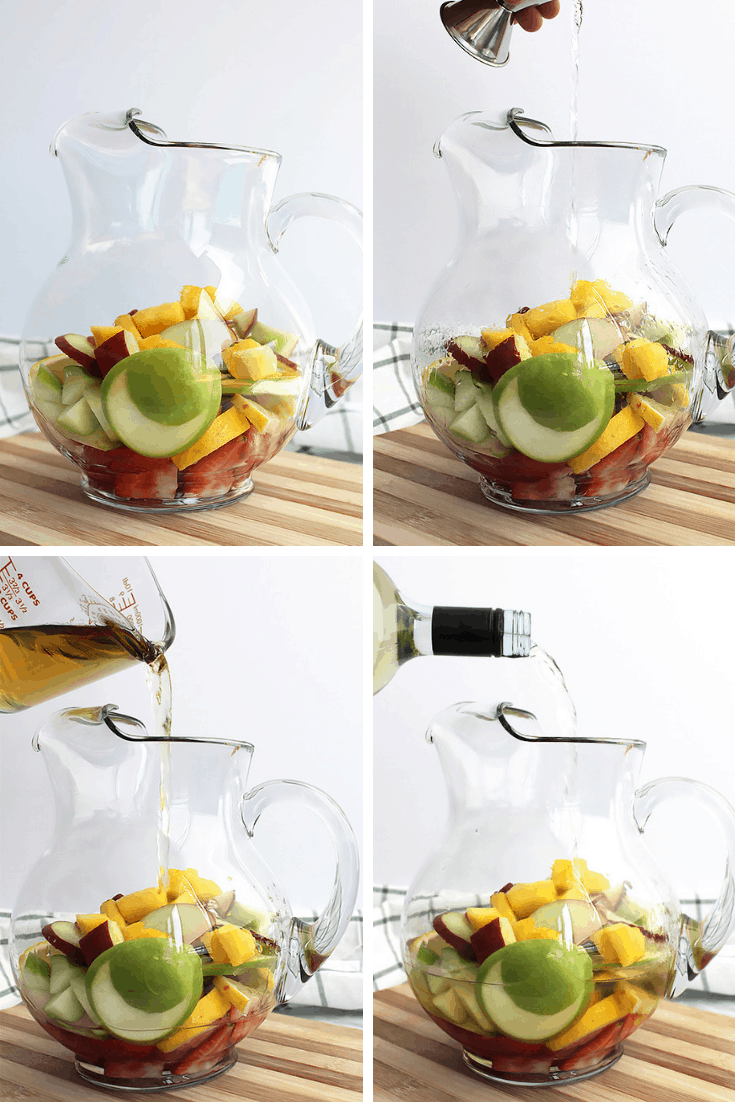 To serve the sangria
Pop a fruit ice cube in each glass and garnish with a slice of fruit used in the sangria. Fill a glass with sangria and spoon in some of the wine drenched fruit.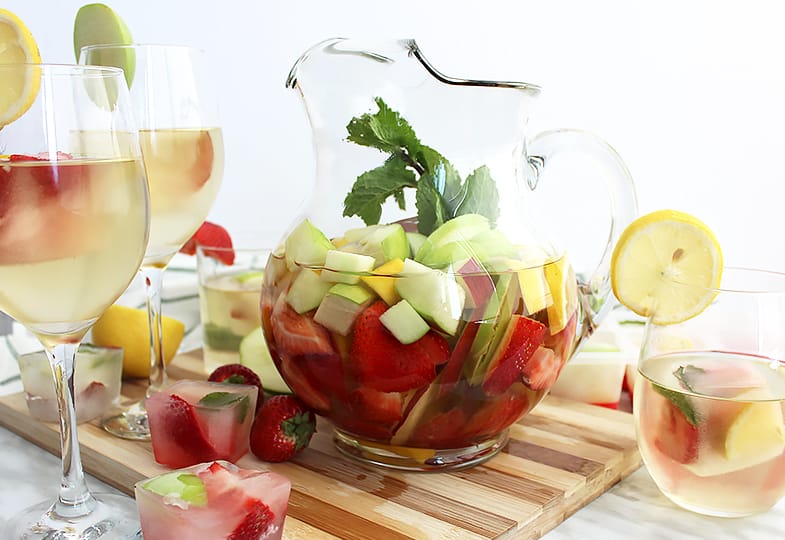 Easy White Sangria For A Crowd
Sangria is a perfect drink to serve at your parties this summer! This recipe will easily serve 10, and you need to make it ahead of time to really let those flavors mingle. If you're hosting a load of people, make a couple of jugs, if it's less simply half the ingredients. Keep the sangria in the fridge between serves and you will be the host(ess) with the most(est)!
White Wine Sangria with Rum
Traditionally, sangria is made with red wine, brandy, berries, orange and apple and topped up with soda (although the soda is optional!). Despite being a huge red wine fan, I wanted to do a white sangria, it just feels way more summery! I used more summer fruits and opted for white rum as the spirit.  I used a wine with hints of apple and peach, so added a little apple juice in as my non-alcoholic component.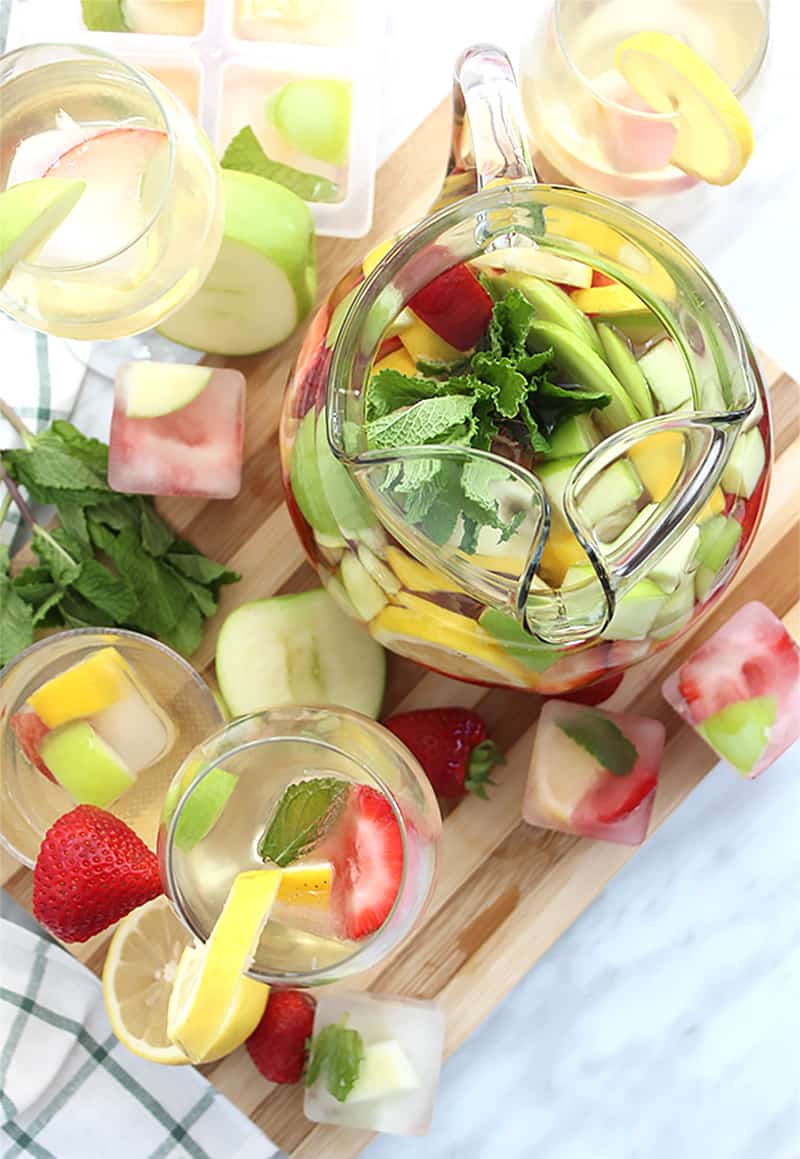 Frequently Asked Questions about Sangria
What's a good white wine for sangria?
First and foremost, use a wine you like.  It doesn't have to be super fancy, but definitely something drinkable! I used a Yellow Tail Pinot Grigio, it's affordable and something I'd drink on a Friday night (ie gobble it down not savor it!!).  For this recipe, be sure to use a white wine with hints of apple so it works with the other ingredients.
Check out this handy guide to get the basic low down on white wine.
What pairs well with sangria?
This sangria recipe is light and refreshing, so ideal food pairings are seafood, chicken and vegetarian dishes.  Cheesy Baked Zucchini Fritters, Fried Chicken Parmesan Sliders and Spicy Mango Salsa will all work well.  But, hey, if you want a burger, who am I to stop you?!
Can sangria get you drunk?
Yes! Sangria is potent, so go steady! It's a really easy drink to gobble up, but it contains wine and hard liquor.  Pace yourself, you don't want to be THAT person!
Does sangria go bad?
It won't go bad per se, but the wine could turn a little vinegary - still drinkable though! It's likely that the fruit will go bad before the drink itself.  I wouldn't leave it for more than 24 hours.
How early should you make sangria?
If at all possible, you want to make this drink ahead of time, no less than 2 hours before you serve it.
Does sangria need to be refrigerated?
Yes! As soon as you have made your concoction and given it a stir, pop it in the fridge.  You want to give it at least two hours in the fridge to let those flavors do their thing. Between serves, I would recommend that you put the jug back in the fridge to keep cool.  If you want to leave it out so people can help themselves, add a few of the fruit ice cubes.  They will dilute the drink a little, so don't add too many.
Can you make sangria with old wine?
What?!  You have opened un-drunk wine?  Who are you?! If you do have some laying around it's fine to use as long as it doesn't make up the majority of the drink.

Be sure to check out these other delicious and refreshing summer drinks!
Spiced Rum Cocktail with Apple Vodka
And if you want to know more about wine, check out these handy guides!
I love hearing from you!! If you have tried this refreshing sangria, be sure to scroll down, give it a star rating and let me know what you thought!
For more tasty treats, food inspiration and fun, be sure to follow me on Facebook, Instagram, Twitter and Pinterest – come say hi!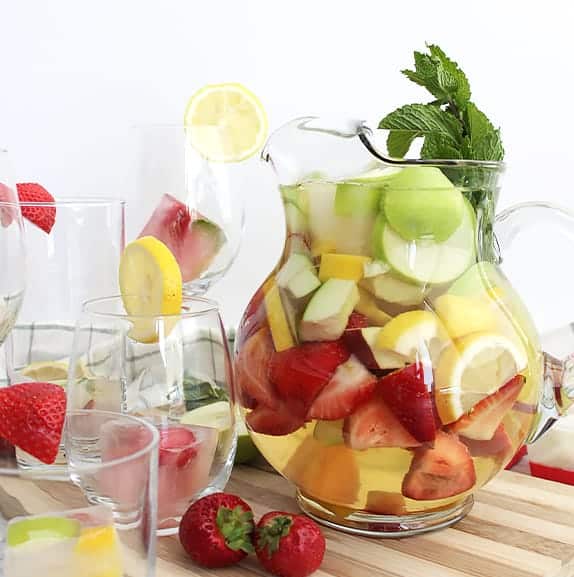 White Wine Sangria with Rum
This easy white wine sangria recipe is perfect for summer drinks! Easy to make for a crowd and so refreshing!
Print
Pin
Rate
Servings:
10
to 12 large drinks
Ingredients
For the ice cubes
chunks of fruit from below

Water
For the sangria
9

ounces

fresh strawberries

(255g)

2

green apples

1

mango

1

white nectarine

(or peach)

6 to 8

fresh mint sprigs

2

lemons

10

ounces

white rum

(I used Bacardi) (280ml)

2

cups

apple juice

(475 ml)

2

bottles white wine

(1.5 litres) (6.3 cups)

2

tablespoons

sugar

(optional - I didn't use any, but feel free if you like it sweeter)
Instructions
To make the ice cubes
At least four eyes ahead of time, make the ice cubes. Chop some of the fruit you will use in the sangria and add to a large ice cube tray. Fill with water an freeze. I mixed and matched different fruits in each ice cube.
To make the sangria
Chop and slice the fruit and add it to a large jug.

Pour in the rum, apple juice and white wine.

Stir well, add the mint and refrigerate for at least two hours.
To serve
Add an ice cube to each glass and garnish with a slice of fruit. Pour!
Notes
Refrigerate the sangria for at least 2 hours and up to 24.
Don't add the ice cubes directly to the jug of sangria, they'll melt and dilute the drink.
Use fresh, ripe fruit.
Nutritional values are based on one of ten servings.
Nutrition
Calories:
148
kcal
|
Carbohydrates:
21
g
|
Protein:
1
g
|
Fat:
1
g
|
Saturated Fat:
1
g
|
Sodium:
4
mg
|
Potassium:
214
mg
|
Fiber:
3
g
|
Sugar:
16
g
|
Vitamin A:
270
IU
|
Vitamin C:
35.6
mg
|
Calcium:
19
mg
|
Iron:
0.4
mg