This easy spiced rum cocktail recipe is an easy drinker and simple to make. A twist on a Dark n Stormy, made with spiced rum, apple vodka, lime juice and topped off with ginger beer.
I'm sure I'm not the only one who ends up with various half empty bottles of spirits in their cupboards, especially left over after Christmas, or if you've had friends over!  I've had a bottle of Sailor Jerry's winking at me for several months now - it felt fair to make a tasty cocktail out of it.
In my last post, I showed you how to make your own Infused Apple Vodka with Ginger, and it works wonderfully in this recipe (I often find the store bought flavored vodkas overly sweet, not to mention full of chemicals), so make a batch and whip up this refreshing cocktail!
How to make a Spiced Rum Cocktail
Because I am not yet an awesomely skilled mixologist, I like to keep my cocktails simple, and this one is no exception! Simply fill a glass with ice and squeeze over the juice of half a lime.  Pour in the apple vodka and spiced rum.  Top up with ginger beer, give it a quick stir and garnish with a lime slice.  Simples!
What's the best spiced rum for cocktails?
"Drinking rum before 10am makes you a pirate, not an alcoholic" - Earl Dibbles Jr.
We all know a pirate's favourite drink is rum, but rum comes in many forms, and the best rum to use with this cocktail is a dark spiced rum. My go to is always Sailor Jerry's, but there are a tonne of great options out there, so give a few a sample to find your favourite! Spiced rum gives this cocktail a really flavourful edge and it works so well with the ginger beer and apple vodka.  Here's some of the popular makes of spiced rum you should be able to find easily.....
Sailor Jerry's
Kraken
Captain Morgan
Bayou Spiced Rum
Trader Vic's
Castillo
What to mix with spiced rum besides coke?
I'll be honest, coke is an super easy mixer to reach for, and it was certainly my go to for a long time. But there are other choices out there guys!  Although coke works well, I do find that after a couple of drinks my mouth gets coated with the sugar and that's all you can taste - you want to let the rum sing!  Lemonade works well as it's lighter, and orange juice is worth a try, but for me, ginger beer or ginger ale is always the winner, it just compliments all those spices so well.  Or, you can just pop the cork and drink it like a pirate!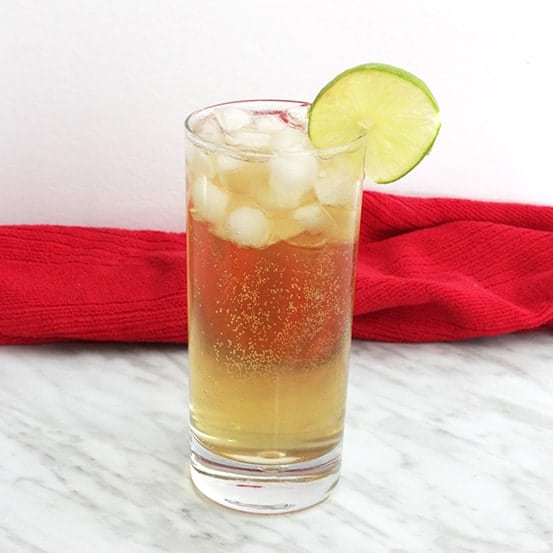 A Twist on a Dark n Stormy Cocktail
I've always been a fan of the classic dark n stormy cocktails - dark rum, lime juice and ginger beer is just an awesome combo! I added in some of my homemade apple vodka, which isn't crazy strong in flavour and blends wonderfully with the other elements in this cocktail. This is a really versatile drink, it's light enough to be enjoyed as a summer drink, but the addition of the apple and spices make this a great drink for fall (autumn) as well.
More rum cocktails....
If rum is your thing, be sure to check out these other delicious rum cocktails!
Rum Punch Cocktail by Crazy for Crust
Pineapple Rum Cocktail by Martha Stewart
Aged Rum and Honey Cocktail by Tasting Table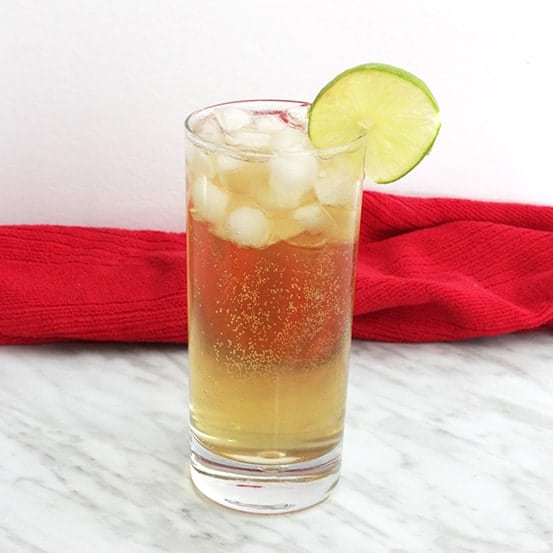 Spiced Rum Cocktail with Apple Vodka
This easy spiced rum cocktail recipe is an easy drinker and simple to make. A twist on a Drank n Stormy, made with spiced rum, apple vodka, lime juice and topped off with ginger beer.
Print
Pin
Rate
Ingredients
ice

.5

juice of half a lime

2

ounces

apple vodka

2

ounces

spiced rum

ginger beer

.25

lime slice for garnish
Instructions
Fill a high ball glass with ice and squeeze in the lime juice. Pour in the vodka and rum and top up with ginger beer. Stir. Garnish with a slice of lime.
Notes
Get the recipe for homemade apple vodka here. 
Nutritional values are an estimate based on one drink.
Serve immediately.
Ingredients are easily doubled.
Nutrition
Calories:
267
kcal
|
Carbohydrates:
2
g
|
Protein:
1
g
|
Fat:
1
g
|
Sodium:
2
mg
|
Sugar:
1
g
|
Vitamin C:
4.5
mg