Thai Chicken and Rice soup is a creamy and filling dish that's all cooked in one pot on the stovetop. Nutritious, easy to make and gluten free it's great for meal prep. Made with coconut milk, brown rice, shredded chicken breast and veggies for a wonderfully fragrant casserole type soup.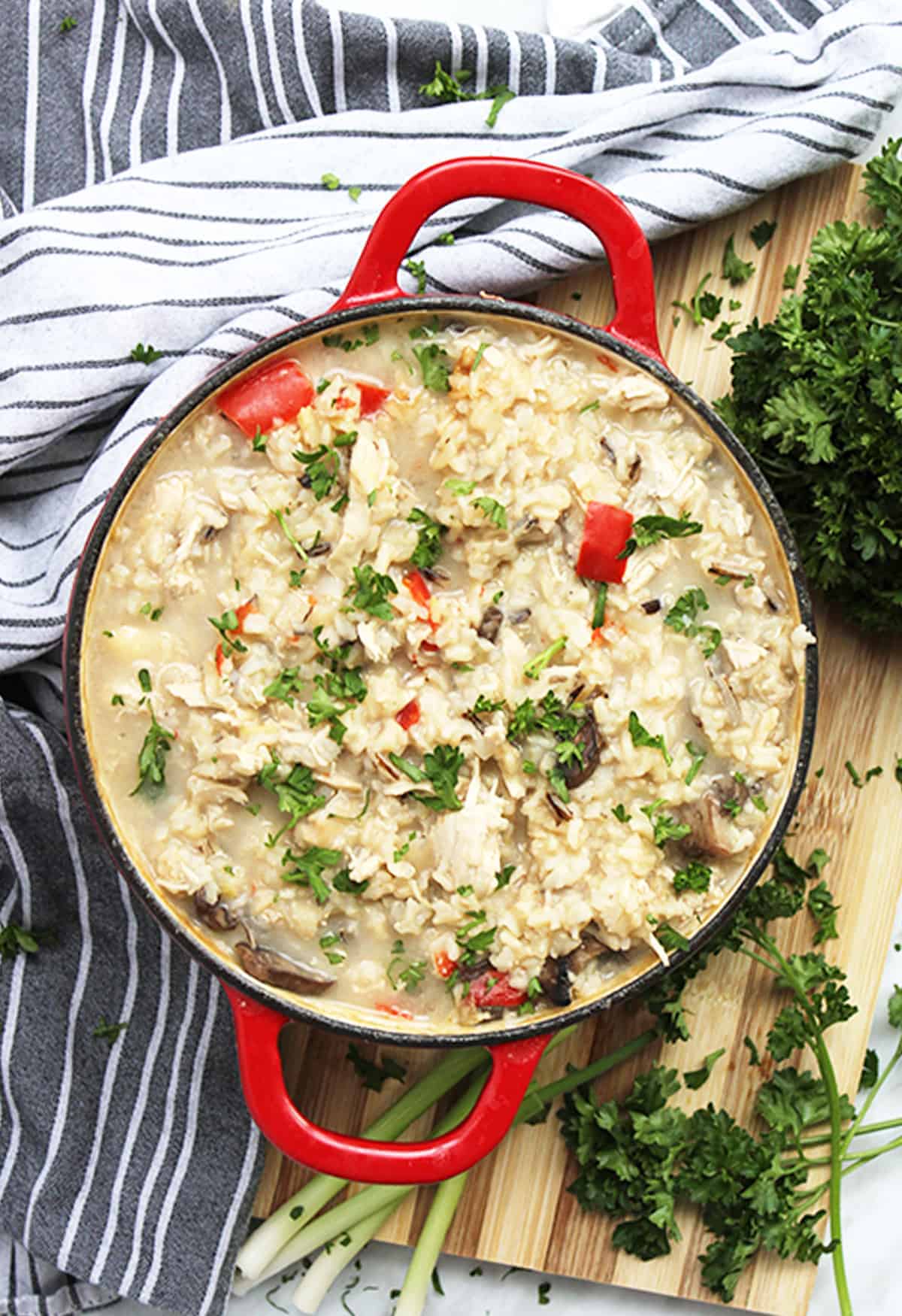 This post may contain affiliate links. Read my privacy policy here.
I don't know how the weather is where you are, but it's definitely soup season here in Toronto! While it's not as cold as it has been some years, we've had our fair share of snow, and all I want to do is shut the curtains, watch Netflix and cosy up with a big bowl of soup!
As you all know, Thai food is my jam, so it felt only right to spice up a chicken and rice soup with those sweet and spicy flavors.
This is one hearty soup, and is easily a full meal on it's own. Rich in protein, this weeknight dinner will keep you filling full and satisfied.
If you are after more Thai inspired treats, be sure to check out my Thai Mussels and Roasted Sweet Potato & Butternut Squash Soup and be sure to take a peek at these awesome coconut milk recipes.
Why you will love this recipe!
One Pot: Everything for this chicken and rice soup is all cooked in one pot, so even the clean up is a breeze.
Make ahead: This soup makes up enough for eight hearty servings. You can easily half the recipe, or store in the fridge for an easy dinner later in the week.
Nutritious: Packed with whole grains from the brown and wild rice, protein from the chicken, healthy fats from the coconut milk and lots of fresh veggies this is one tasty way to get the goodness in. It's also naturally gluten-free.
Ingredients
Red chili: This is where the spice comes from. Use a red finger chili for a milder heat and a Thai red chili if you like things spicy. You can adjust the amounts depending on your tolerance.
Garlic and ginger: Use freshly minced or grated for the best flavor.
Lemongrass: This is optional, but it adds a wonderful subtle flavor of citrus and mint.
Vegetables: Onion, bell pepper and mushrooms.
Stock: I used chicken stock for this soup, but vegetable will also work well.
Coconut milk: Used canned rather than cartoned coconut milk, which is much thinner. Full fat is most creamy and thick, but you can use lite if you prefer.
Rice: I used a brown and wild rice blend for this soup for lots of whole grain goodness.
Chicken: Use cooked shredded chicken breast.
Fish sauce: This is a much loved ingredient in Thai cooking. You can substitute it for soy sauce, tamari or coconut aminos.
Lime juice: Use fresh lime juice for the best flavor. The acid helps to cut through the creamy coconut milk and add freshness to the soup.
How to Make Thai Chicken and Rice Soup
Soften the aromatics in a large pot (photo 1).

Add the pepper and mushrooms and cook to soften

(photo 2).
Stir in the coconut milk, rice and chicken (photo 3).
Add in the fish sauce and lime juice and bring to a boil. Simmer til the rice is cooked through.

Frequently Asked Questions

What's the best rice to use in soup?

I opted to use a mix of brown and wild rice for this recipe. It has a nuttier flavor compared  to white rice and the texture holds up well. You can use white rice in this recipe, but you won't need to simmer the soup with the lid on for as long, 10 - 15 minutes will do it. Check the cooking instructions on your package and adjust the timings accordingly. 

You can also use leftover cooked rice in this recipe, add the liquids to the soup and bring to the boil of a few minutes and turn it down to medium, then add in the cooked rice. Cook for 5 minutes until the rice is heated through and let the soup stand for a few minutes to thicken up.

Can you make it ahead of time?

Soups are a great option if you are looking to meal prep, but because this soup contains rice, there are a couple of points to note if you plan on making this for meals throughout the week.

The rice is super absorbent, so if left it will soak up a lot of the liquid in the soup. It's still really nice, but it will be really thick and more casserole than soup. To keep your soup soup-y, when you reheat it you can add a can of coconut milk to it or a couple of cups of stock to it.  You can also cook your rice separately and add it into the soup when you are reheating it.

The cooked Thai chicken and rice soup will keep in an airtight container in the fridge for 4 days, and it should only be reheated once.

Can you freeze it?

You can freeze chicken and rice soup, but the rice will alter in texture slightly after freezing. If you are planning to make this soup to freeze, it's best to add cooked rice to the soup when it is being reheated rather than adding it before freezing. Frozen soup should be thawed in the fridge overnight before reheating.

How do you shred chicken?

Cooked shredded chicken breast is the protein in this dish. You can either buy pre shredded chicken in packages, buy a rotisserie chicken, use leftover roast chicken or make your own. 

To make your own, you can cook the breasts in the oven at 350ºf / 180ºc for 25 minutes and then shred them with two forks. If you have an Instant Pot, you can also cook the chicken breasts in that for 8-10 minutes before shredding them.

Top Tips To Make Thai Chicken and Rice Soup

Use any rice you want in this recipe but you may need to adjust the timings - check your rice package and increase / decrease cooking time accordingly.
You can cook your rice separately or use leftover rice and add it to the soup just before serving to heat it through.
If you reheat the leftovers, you may want to add more stock or coconut milk to make it more soup-y as the rice will have absorbed a lot of the liquid.
The recipe is easily halved.
Store leftovers in an airtight container and keep in the fridge for 3 days or freeze for up to 3 months.

I love hearing from you!! If you have tried this yummy Thai chicken and rice soup, be sure to scroll down, give it a star rating and let me know what you thought!

For more tasty treats, food inspiration and fun, be sure to follow me on Facebook, Instagram, Twitter and Pinterest – come say hi!

Thai Chicken and Rice Soup

Thai Chicken and Rice soup is a creamy and filling dish that's all cooked in one pot on the stovetop. Easy to make and gluten free it's great for meal prep. Made with brown rice, chicken breast and veggies for a wonderfully fragrant casserole type soup.

Print Pin Rate

Ingredients

1

tablespoon

oil

1

red chili

finely chopped

4

garlic cloves

minced

1

onion

finely chopped

1

lemongrass stalk

cut in half

2

tablespoons

ginger

minced

1

red bell pepper

sliced

8

ounces

mushrooms

sliced (227g)

5

cups

chicken stock

(1.2 litres)

2

cans

coconut milk

(27 ounces / 800ml)

2

cups

brown and wild rice mix

(400g / 14oz)

2

shredded chicken breasts

(400g / 14 oz)

1

tablespoon

fish sauce

juice of one lime

To garnish (optional)

fresh cilantro and green onion

Instructions

Heat the oil in a dutch oven on a medium heat on the stovetop. Add in the chili, garlic, onion, lemongrass and ginger and let it cook for 2 or 3 minutes until fragrant. Stir occasionally.

Add the pepper and mushrooms, give it a good stir and cook for 10 minutes. Stir occasionally so everything cooks evenly.

Add the stock, coconut milk, uncooked rice and shredded chicken to the pot and stir to combine.

Add in the fish sauce and lime juice and bring the pot to the boil.

Turn the heat to a medium so that the soup is simmering and place the lid and leave to cook for 30 minutes.

After 30 minutes, take the lid off and give the soup a stir. Turn the heat to low and cook for another 5-10 minutes to allow the soup to thicken then serve.

Notes

Use any rice you want in this recipe but you may need to adjust the timings - check your rice package and increase / decrease cooking time accordingly.
You can cook your rice separately or use leftover rice and add it to the soup just before serving to heat it through.
If you reheat the leftovers, you may want to add more stock or coconut milk to make it more soup-y as the rice will have absorbed a lot of the liquid.
The recipe is easily halved.
Store leftovers in an airtight container and keep in the fridge for 4 days or freeze for up to 3 months.
Nutritional values are based on one of eight servings and is an estimate only.

Nutrition

Calories:

512

kcal

|

Carbohydrates:

52

g

|

Protein:

17

g

|

Fat:

28

g

|

Saturated Fat:

22

g

|

Cholesterol:

23

mg

|

Sodium:

444

mg

|

Potassium:

836

mg

|

Fiber:

5

g

|

Sugar:

8

g

|

Vitamin A:

528

IU

|

Vitamin C:

33

mg

|

Calcium:

43

mg

|

Iron:

3

mg

Reader Interactions