Last Updated on August 20, 2019 by Slow The Cook Down
This Grilled Lemon and Herb Chicken Salad recipe is easy, healthy and packed full of flavors. The chicken marinade is fresh and simple, perfect for a lunch, dinner or meal prep.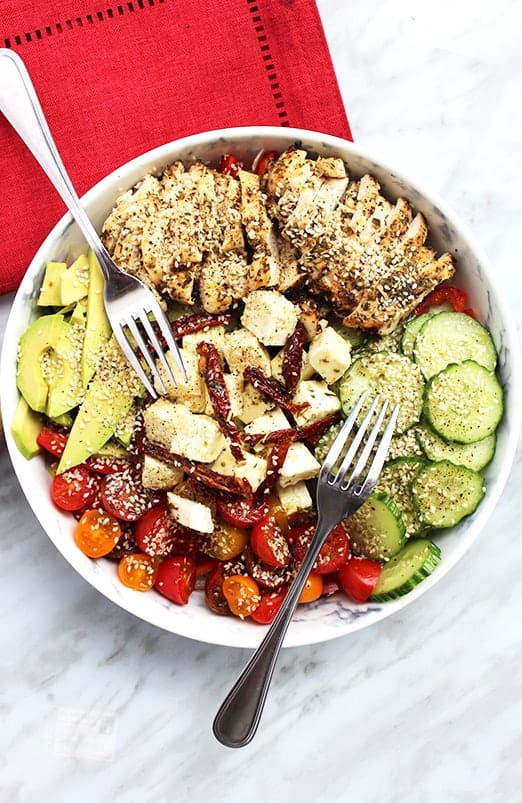 Woo hoo!  It's the first day of Spring, the snow is melting and we are into double figures here! We're starting to plan trips out over the weekends and the food festival season here in Toronto is nearly upon us - all is good with the world 🙂 As it's getting warmer here, I thought it was time for a fresh and delicious salad recipe.
If you caught my last recipe, Marinated Feta, and you're wondering how to use that tasty cheese, this is the recipe for you! This is not just a bland salad, this is a salad that packs a punch!  The grilled chicken is marinaded in herbs and lemon, tonnes of fresh veggies and a simple herb vinaigrette pulls it all together.  We had this for dinner a few nights ago, and it went down a storm. Mr Slow The Cook Down even said he doesn't mind having salad for dinner on other nights(!!).
Simple Grilled Chicken with Lemon, Garlic and Herb Marinade
The recipe and technique to make this delicious lemon and herb chicken is so simple and easy.  Here I have used it to add protein to the salad, but it is super versatile, so you could easily serve it with fries, roast potatoes or however you like your chicken! The marinade is fresh and zingy, thanks to the lemon, garlic and herbs, so it's perfect now the weather is getting warmer!
How to make Grilled Lemon and Herb Chicken
Simply pop a couple of chicken breast into a ziploc bag, add the marinade ingredients and give it a good shake around.  Pop it in the fridge for at least 30minutes (longer the better!), then when you are ready, under the grill.  Not very labor intensive but a great way to elevate your chicken.
Healthy grilled chicken recipe
Now, we all know that we can't be stuffing our faces with carbs covered with cheese all the time (damn it!). This salad is a perfect way of getting some goodness in so you don't feel as guilty when you order a takeaway on a Friday night! Grilling is a great way of cooking chicken, it doesn't dry it out, but still gives you that beautiful colour on the outside.  It's also way healthier than frying.
I actually marinated four chicken breasts and sent the other two with Mr Slow The Cook Down in his lunch box.  They'll be good for a couple of days so great for meal prep.
A delicious fresh and simple salad
Now, this salad isn't just about the chicken (although it is banging!), the salad and the dressing are an awesome mix of flavors and textures. The base of the salad is shredded iceberg, with thinly sliced red onions and red peppers on top of it. Heirloom tomatoes, cucumber, avocado and marinated feta with sliced sundried tomatoes nestle next to the grilled lemon and herb chicken. Sesame seeds and black pepper are sprinkled over the top.
A Simple Vinaigrette Recipe
Homemade vinaigrettes are so easy to make and they are way better for you than buying the store bought ones.  I went with a vinaigrette for this recipe, rather than a thick dressing, as it helps keep the lightness of the dish.  I used similar ingredients that are in the chicken marinade so it ties the dish together beautifully.
If you are looking for more salad recipes, be sure to check these out!
Honey & Mustard Marinated Chicken Salad
Potato Salad with Trout & Chorizo
Grilled Lemon and Herb Chicken Salad
This Grilled Lemon and Herb Chicken Salad recipe is easy, healthy and packed full of flavors.
Print
Pin
Rate
Servings:
4
servings (as a main meal)
Ingredients
For the marinated chicken
2

chicken breast

(organic and free range)

2

tbsp

olive oil

½

tbsp

dried oregano

½

tbsp

dried basil

½

tbsp

dried rosemary

¼

tbsp

ground black pepper

⅛

tsp

salt

¼

tsp

garlic powder

juice and zest of 2 lemons
For the salad
½

iceberg lettuce

shredded

½

small red onion

finely sliced

1

red pepper

finely sliced

½

cucumber

finely sliced

12

heirloom baby tomatoes

cut in half

1

avocado

sliced

3.5 to 5

ounces

marinated feta cheese

(100 to 150g)

2

sundried tomatoes

finely sliced

1

tbsp

sesame seeds

ground black pepper
For the salad dressing
¾

cup

extra virgin olive oil

¼

cup

white wine vinegar

1

garlic clove

minced

1

tbsp

dried mixed herbs

¼

tsp

ground black pepper

juice and zest of ½ lemon

¼

tsp

salt

1

tbsp

sugar
Instructions
To marinade the chicken
Put all of the ingredients for the marinaded chicken (except for the chicken) into a jug and mix well.

Put the chicken breasts into a zip lock bag, and pour over the marinade. Close the bag and use your hands to move the marinade around and coat the chicken. Put in the fridge for at least 30 mins - up to 4 hours for a stronger flavor.
For the salad dressing
Mix together all of the ingredients for the dressing and store in the fridge until ready to use.
To put it all together
When you are ready to cook the chicken, put the grill on a high heat. Place the chicken breasts on to a foil covered grill pan, and put directly under the grill (you can also use a bbq).

After 10 minutes flip the chicken breast over and cook on the other side for 10-15 minutes until the chicken is browned and cooked through.

While the chicken is cooking you can prep the salad. Layer the iceberg lettuce on the bottom of a large serving bowl, and add the thinly sliced red onion and red pepper. Add the cucumber, tomatoes, avocado, feta and sun dried tomatoes.

Slice the chicken and add to the salad, then sprinkle with sesame seeds and black pepper. Drizzle over some of the dressing and serve.
Notes
There will be dressing left over, this will keep in the fridge for around 5 days.
For homemade marinated feta, use this recipe.
Black olives would also be a good addition to this salad!
Nutritional value based on 1 of 4 servings
Nutrition
Calories:
676
kcal
|
Carbohydrates:
21
g
|
Protein:
13
g
|
Fat:
62
g
|
Saturated Fat:
12
g
|
Cholesterol:
38
mg
|
Sodium:
549
mg
|
Potassium:
770
mg
|
Fiber:
7
g
|
Sugar:
10
g
|
Vitamin A:
1815
IU
|
Vitamin C:
74.2
mg
|
Calcium:
201
mg
|
Iron:
2.8
mg