These crispy pork belly slices are all kinds of delicious! The pork is slow cooked in a cider, honey and soy sauce for a wonderful sweet and salty bite. The crackling skin on top is so perfectly crispy the meat is juicy and tender. Made with a handful of simple ingredients, it's easy to make and such a treat to eat!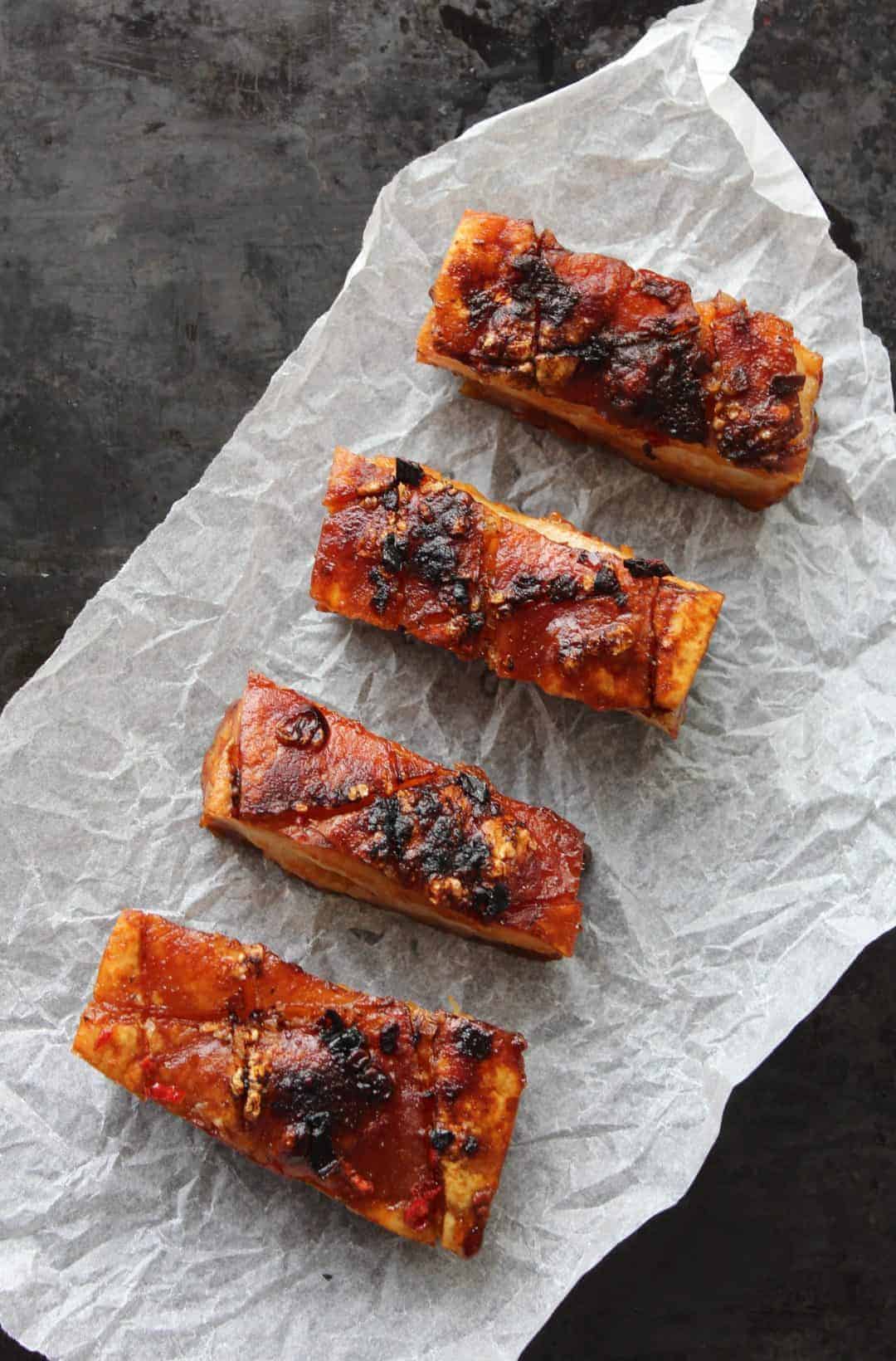 Pork belly is one of my favourite cuts of meat, I would have it every Sunday if I could! I love the layers of fat that slowly melt through, and the strong flavours that you are able to put through it. I've cooked MANY belly recipes and used MANY different techniques.
Here I have used, what I like to call, the pressing method, it's so easy to get those perfect slices. This is a great way to make the final presentation look neat and beautiful, as well as ensuring that you get that amazing crackling.
Pork belly, cooked well with some salt and pepper really is my idea of heaven, sometimes food should be kept simple and that's the best way, but the sauce that I made to go with this pork belly really takes it to a different level. Sweet and salty with a depth of flavour from oyster and soy sauces, I promise you, you won't be able to get enough of it!
This is perfect to serve up as part of a family or celebration meal. I've served it at Christmas a few times to rave reviews! It's a perfect slow cooked pork recipe that you really take your time with, but nothing is that complicated.
Why not serve up with with some of my Roast Potatoes with Garlic, Herbs and Parmesan or Loaded Sweet Potato Dauphinoise. This is the perfect weekend feasting recipe!
What is pork belly?
Pork belly is a boneless piece of meat that comes from the underside of the pig. It has layers of fat, which makes it melt in the mouth and a fairly thick skin, which, when done right, produces the most delicious crackling. It's a pretty inexpensive cut of pork and you can find it at most superstores, or for sure at your local butcher.
Ingredients You Will Need
Pork Belly: To feed four, you will need about 35 ounces of pork belly. Try and get a piece that is fairly flat so that it cooks evenly, and free range and locally reared if you can.
Cider: Use an alcoholic dry cider or semi-sweet cider. You can use a non-alcoholic cider if you prefer.
Honey: Honey adds a nice bit of natural sweetness and helps to brown the crispy crackling.
Soy and Oyster Sauce: These Asian sauces and a wonderful saltiness to the pork. Use a dark soy sauce rather than light.
Red Chili: I like to add a little fresh red chili for a bit of heat. It's not overly spicy though and you can omit this if you prefer.
Demerara Sugar: Demerara has a richer taste compared to white due to the molasses in it.
Flour: A little all purpose flour helps to thicken the sauce.
Salt and Pepper: Freshly cracked to help bring all those flavors alive!
How To Make Crispy Pork Belly Slices with Cider
This recipe is pretty straight forward to put together. The belly is cooked in a couple of stages to really get the flavour in, and it is slow cooked to really get the meat lush and tender. This is exactly the kind of recipe that got me into cooking - do a bit, drink a bit, do a bit, drink a bit! It's the perfect recipe for a Sunday dinner, familiar, but with a twist to impress your guests.
Be sure to scroll down for the full recipe!
Score the skin of the pork belly and pour boiling water over it. Rub in salt and pepper.
Place in a baking tin and slow roast in the pre-heated oven.
When ready, take the pork out out of the oven, place a small tray on top and weight it down. Place in the fridge.
Mix together the sauce.
Cut the pork into slices, pour over half the sauce and chill.
Pour over the rest of the sauce and place back in the oven.
Finish the pork, but frying the skin in a hot pan for a few minutes and serve.
What do you serve pork belly with?
I like to serve pork belly as part of a roast dinner, it's great if you have some time on your hands and really want to cook up a delicious feast. I served it to friends this past Christmas along with my red onion gravy, sautéed Brussels sprouts and all of the other trimmings.
What does it taste like?
Pork is a fairly mild meat, so it's pretty versatile when it comes to the seasonings. This is sweet and salty, but not so overpowering that you would find it hard to pair with sides. Bacon is made from pork belly, so it's a bit like that, but without the smokiness.
Can you make it ahead of time?
This pork is best served as soon as you've made it so that the crackling is at it's crispiest and the meat is wonderfully juicy. If you are serving this as part of a larger meal, with lots of sides, you can leave the pork in the fridge for longer, up to 4 hours, so that you can get everything else together.
How do you get the skin crispy?
I'm sure you're like me and had soggy or chewy crackling. Trust me, you do not get that with this recipe! Make sure the skin is well scored, and before seasoning, por boiling water over it to open it up. After oven cooking it, the skin will be crispy, but you take that up to a whole other level by quickly frying it on the stovetop. It will puff and crackle and the result really is amazing!
Why cut it into slices?
I've cooked a lot of pork belly, in fact, it was one of the things that really got me into long and slow cooking. It can be really hard to cut the pork once it is fully cooked, by pressing it and slicing it before the final roast. It's so much easier to serve rather than hacking at it when the skin is crispy! You get that restaurant quality presentation and you'll impress everyone you serve it to!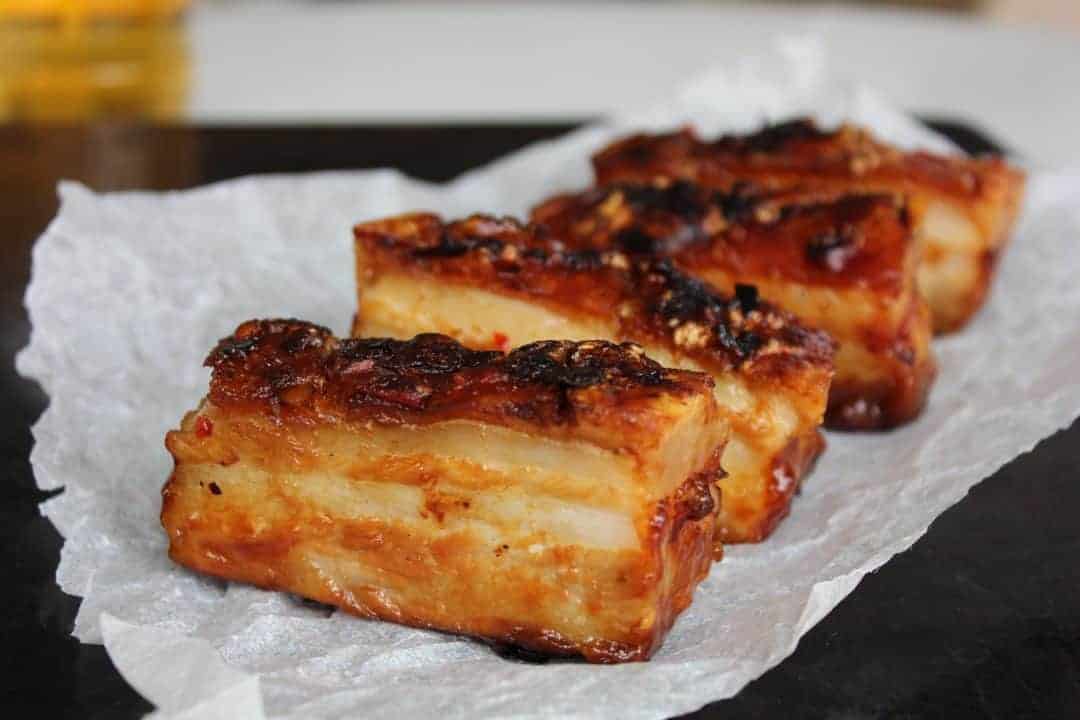 Recipe Notes and Tips
Make sure the skin of the pork is scored. Ask your butcher to do this. If it's not scored, you will need a VERY sharp knife and take care not to cut into the meat.
Pour boiling water over the skin before you cook it. This helps to open it up so that they salt and pepper can get deep. This is key to the crispy skin!
Really weigh down the pork when you refrigerate it. This helps the layers to compress and get the meat nice and juicy.
Let the pork rest for at least 15 minutes before serving it. This helps the juices redistribute and it will be wonderfully tender and full of flavor.
Hands down, this is the recipe I have cooked the most on my blog! If you only try one, let this be it! I've served it friends and family so many times over the years and it never disappoints!
More Easy Weekend Recipes!
I love hearing from you!! If you have tried these crispy pork belly slices, be sure to scroll down, and let me know what you thought!
For more tasty treats, food inspiration and fun, be sure to follow me on Facebook, Instagram, Twitter and Pinterest – come say hi!
Be sure to keep in touch and sign up to Slow The Cook Down to grab your free e-book 'Stress Free Recipes Made For Sharing'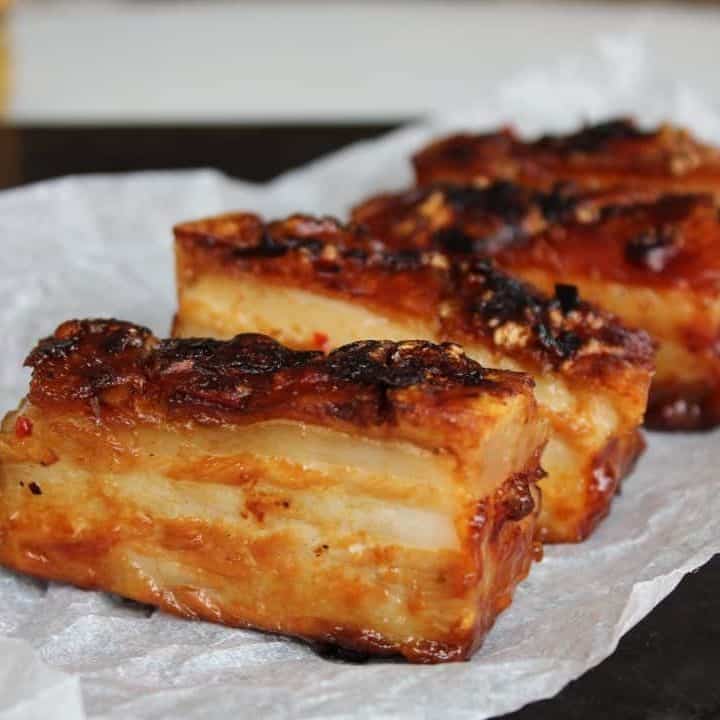 Crispy Pork Belly Slices with Cider
A beautiful sweet and salty pork belly recipe that is perfect for a Sunday dinner
Print
Pin
Rate
Ingredients
35

ounces

pork belly

(1kg)

½

cup

dry cider

(110ml)

4

tbsp

honey

2

tbsp

dark soy sauce

1

tbsp

oyster sauce

1

red chilli - finely chopped

2

tbsp

Demerara sugar

2

tbsp

plain flour

Salt & pepper
Instructions
Pre-heat the oven to 160°c

Score the skin of the belly in a cross cross pattern (or get your butcher to do this for you, you need a super sharp knife), then pour boiling water over the top of the skin, this helps to open up the top layer so you can get the flavour in. Rub in a few pinches of salt and pepper into the skin. Pop into the oven in a small, lightly oiled, roasting tin for 2 hours (grab a glass of wine).

After 2 hours, take the belly out.  Keeping it in the tin, pop a smaller roasting tray (or anything flat) on top and weigh down with some cans/bag of sugar/something heavy and pop in the fridge.

Mix the cider, honey, soy sauce sauce, oyster sauce, chilli and sugar together in a bowl, slowly add the flour.

After one hour, take the belly out of the fridge, cut into slices, and pour over half of the dressing.  Make sure all the sides are covered. Pop back in the fridge.

After one more hour, pour the rest of the dressing over and pop in the oven for 30mins (still at 160°c).

Once the belly is ready, heat a glut of oil in a frying pan and pop each slice of belly, skin side down and fry for a couple of minutes to get the skin super crispy.

Let the pork belly rest before serving
Notes
Make sure the skin of the pork is scored. Ask your butcher to do this. If it's not scored, you will need a VERY sharp knife and take care not to cut into the meat.
Pour boiling water over the skin before you cook it. This helps to open it up so that they salt and pepper can get deep. This is key to the crispy skin!
Really weigh down the pork when you refrigerate it. This helps the layers to compress and get the meat nice and juicy.
Let the pork rest for at least 15 minutes before serving it. This helps the juices redistribute and it will be wonderfully tender and full of flavor.
Nutritional values are an approximation and are based on one of four large servings
Nutrition
Calories:
911
kcal
|
Carbohydrates:
29
g
|
Protein:
25
g
|
Fat:
82
g
|
Saturated Fat:
48
g
|
Cholesterol:
179
mg
|
Sodium:
716
mg
|
Potassium:
525
mg
|
Fiber:
1
g
|
Sugar:
25
g
|
Vitamin A:
130
IU
|
Vitamin C:
16.9
mg
|
Calcium:
12
mg
|
Iron:
1.9
mg