You are going to love this jalapeno recipe!! Crispy Jalapeno Fries are made for sharing! They are a great appetizer and perfect for a game day or party food option. Easy to make and baked in the oven for maximum crunch and less grease. Cheesy, spicy and perfect for dipping!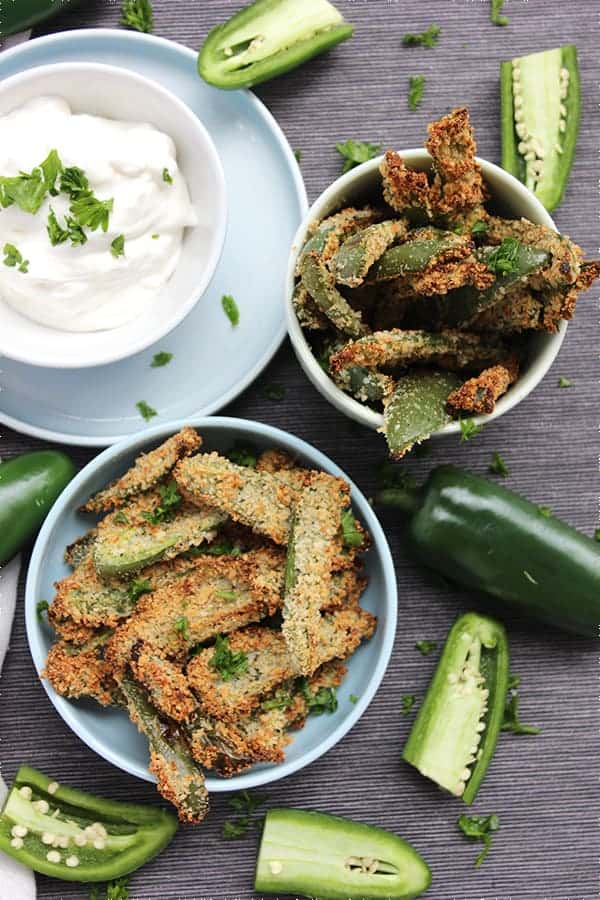 I made these delicious bites a few weeks ago, but thanks to a memory card literally disintegrating in my camera, all the photos were lost! That, my friends, is basically dog crap! Usually if something like this happens, I may have a small tantrum (which can also be classed as a total melt down!), but I stayed cool as a cucumber. Why? Because these little spicy bites are truly awesome and I was happy to eat them again!
As I was whiling away some hours on a Saturday watching Food Network ('cos that's what food bloggers do you know), Valerie Bertinelli popped up and was making some jalapeno fries. Valerie's, although delicious, were fried, and I don't know about you, but I always find frying at home slightly off putting (must be all those safety videos I watched as a kid about chip pan fires - the fear is real!!). So here's my version, delicious and dead easy without the fear of exploding oil - I think Valerie would approve 🙂
If you are looking for more party food recipes, be sure to check out my Sticky Chicken Wings with Honey and Sriracha and Cheesy Baked Zucchini Fritters.
How to make Crispy Jalapeno Fries - step by step
As with most recipes, the key to these tasty treats is all in the prep. Cut your jalapenos in half and deseed them, then cut in half lengthways again so you have long fry-like strips.
In one bowl mix an egg with a little milk and salt and pepper. In another bowl mix the breadcrumbs, salt, pepper, garlic powder and parmesan.
Dip each jalapeno strip into the egg mixture, then into the bread crumbs, and transfer to a foil lined baking sheet.
Bake in a pre - heated oven for around 20 minutes and devour immediately!
How do you breadcrumb something?
Now, I won't lie, when I first made these crispy jalapeno fries I got in a bit of a mess - I always do when it comes to breadcrumb-ing, egg and crumbs EVERYWHERE! The secret to not ending up in one big gloopy mess is to keep your hands separate - have a dry hand and a wet hand. One hand (the 'wet' hand) takes the jalapeno slice, dunks it into the egg and drops it into the breadcrumbs, the other hand (the 'dry' hand), covers the slice with breadcrumbs and pops it on the baking tray. It's not that hard, but for someone uncoordinated like me, it takes a little concentration!
If you do and up in a big gloopy mess, just empty the bowls and start over. Be sure to have some extra ingredients on hand, just incase!
Dips for this Jalapeno Recipe
All party foods need a well matched dip, and these jalapeno bites are no exception! I love the flavor of jalapenos, and they aren't so spicy that they kill all of your taste buds, so something creamy and mild is a great pairing. I went with a basic sour cream dip, sometimes it's good to keep things simple, but a ranch dressing would also work. I would also wager that a not to strong marinara dip would also work well.
Jalapeno Fries with Panko Breadcrumbs
Because these party bites are oven baked rather than fried, I highly suggest you use panko, not bog basic breadcrumbs. They create that golden brown fried look and they crunch like a dream!
What's the difference between panko and breadcrumbs?
Panko is a Japanese style breadcrumb, and it is made from a crustless bread. The bread is ground into airy flakes, larger than breadcrumbs, and they stay crispier for longer as they don't absorb as much fat.
Can I use breadcrumbs instead of panko?
I mean, you can, if you really have to, but don't come back and complain that your crispy jalapeno fries are in fact, not that crispy!
Here's the good news! Panko are lower in fat, calories, sodium than regular breadcrumbs and they are also high in fiber. WIN! Panko gets super crisp in the oven so you get that fried crunch without the need for all the oil.
Cheesy Jalapeno Bites
These fries aren't just covered in breadcrumbs, hell no! Grated parmesan adds a nutty, cheesy element to each bite, along with garlic and spicy black pepper. I love the flavor of roasted jalapenos, not too hot with subtle smokey and earthy qualities. The breadcrumb mixture isn't so strong that you lose the flavors of the main star!
Are Jalapenos healthy?
Want some more good news? Jalapenos are full of vitamins, minerals and fiber and low in calories and fat. They are known to be natural pain relievers, boost your metabolism and keep your heart healthy. So munch up people!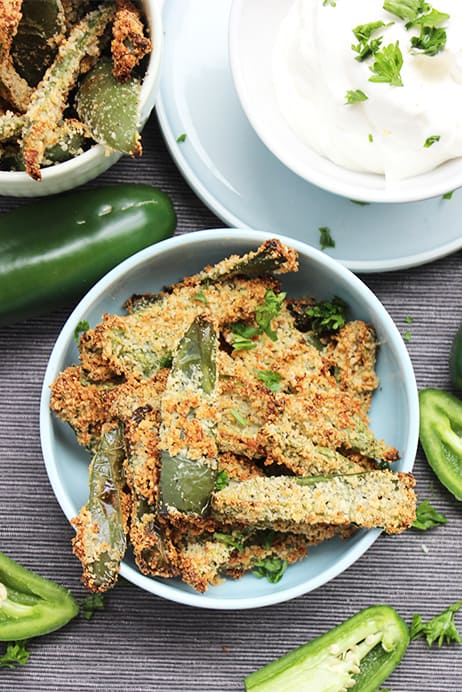 Top tips for making Crispy Jalapeno Fries
Do search out some panko breadcrumbs - it will make all the difference!
Buy the freshest jalapenos you can lay your hands on.
Follow the instructions above for easy breadcrumb-ing - keep one hand dry at all times!
Be sure to pre heat your oven for the crunchiest jalapeno fries.
Serve immediately!
You can bread the jalapenos a couple of hours before cooking them, then pop them in the oven just before you are ready to serve them.
Do you love jalapenos as much as me? Then check out these other awesome recipes!
I love hearing from you!! If you have tried these Crispy Jalapeno Fries, be sure to scroll down, give it a star rating and let me know what you thought!
For more tasty treats, food inspiration and fun, be sure to follow me on Facebook, Instagram, Twitter and Pinterest - come say hi!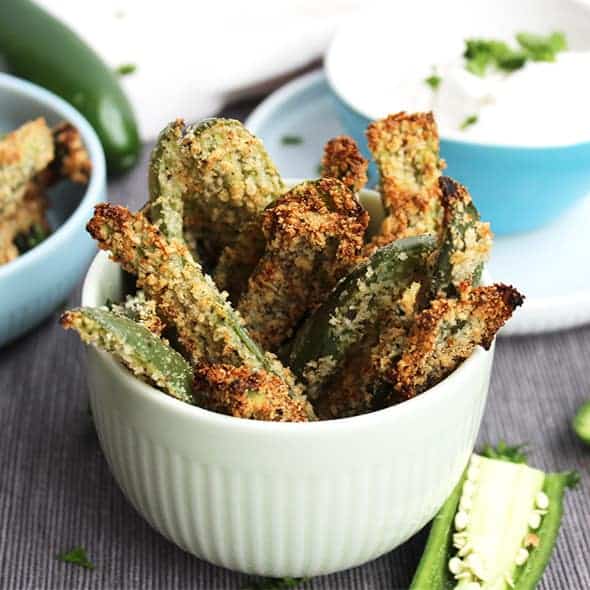 Crispy Jalapeno Fries
Crispy Jalapeno Fries are made for sharing!
Print
Pin
Rate
Servings:
4
to 6 servings
Instructions
Pre heat the oven to 430ºf / 220ºc and line a baking sheet with foil.

Cut the tops off of the jalapenos, cut them in half and deseed. Slice the jalapeno halves in half lengthways to make fries.

Mix the egg and milk in one bowl with a pinch of salt and pepper in a bowl.

In another bowl, mix the panko, parmesan, black pepper, garlic powder and salt.

Dip each jalapeno strip in to the egg, then breadcrumbs and place on the baking tray. Try to keep one wet hand and one dry hand when doing this.

Once all jalapeno strips are coated and on the baking tray, place in the oven for around 20-25 minutes until they are golden brown and crispy. Serve immediately.
Notes
Serve with your favorite dips; sour cream, ranch and marinara will all work well.
When breading the jalapenos, keep one hand dry and one wet so you don't end up in a gloopy mess!
Calories are an approximation based on one of two large servings.
Nutrition
Calories:
250
kcal
|
Carbohydrates:
25
g
|
Protein:
15
g
|
Fat:
10
g
|
Saturated Fat:
5
g
|
Cholesterol:
64
mg
|
Sodium:
1455
mg
|
Potassium:
270
mg
|
Fiber:
3
g
|
Sugar:
4
g
|
Vitamin A:
800
IU
|
Vitamin C:
58.1
mg
|
Calcium:
348
mg
|
Iron:
2
mg