What better way to celebrate Paddy's Day on March 17th, than with a  delicious cocktail?! Today, a bunch of lovely bloggers are sharing their favorite Irish themed cocktails to celebrate the saint who chased the snakes from the Emerald Isle!
In the UK, we didn't really celebrate St Patrick's Day - apart from when I was 19 and drank an undisclosed amount of Guinness to win a Leprechaun's hat, but that's a different story!! This year, I'm going to be a little bit classier, and dive into some of these awesome Irish themed cocktails that will take you through from brunch to the early hours!
Here's a brunch cocktail to get you started on Paddy's Day!  The Green Bloody Mary from Platings and Pairings is a super fun take on a classic.  Get your drink on early with this emerald beauty!
Yes, you can have it all!  This cocktail from Elephantastic Vegan is not only super tasty, it's actually healthy (well, as healthy as cocktails get!).  Packed full of fresh flavors this one is a real treat!
Who said Irish themed cocktails can't be classy?! Why not serve up this elegant champagne cocktail from What Great Grandma Ate.  This is perfect to serve up if you are having a dinner party or a girls' night in!
And here's another classy cocktail from Beyond Mere Sustenance in the form of a delicious martini! Lemon, cucumber and basil make for a refreshing tipple!
Here's another classic cocktail with a twist.  Super easy to make, this mojito has a touch of sweetness to it thanks to some elderflower liqueur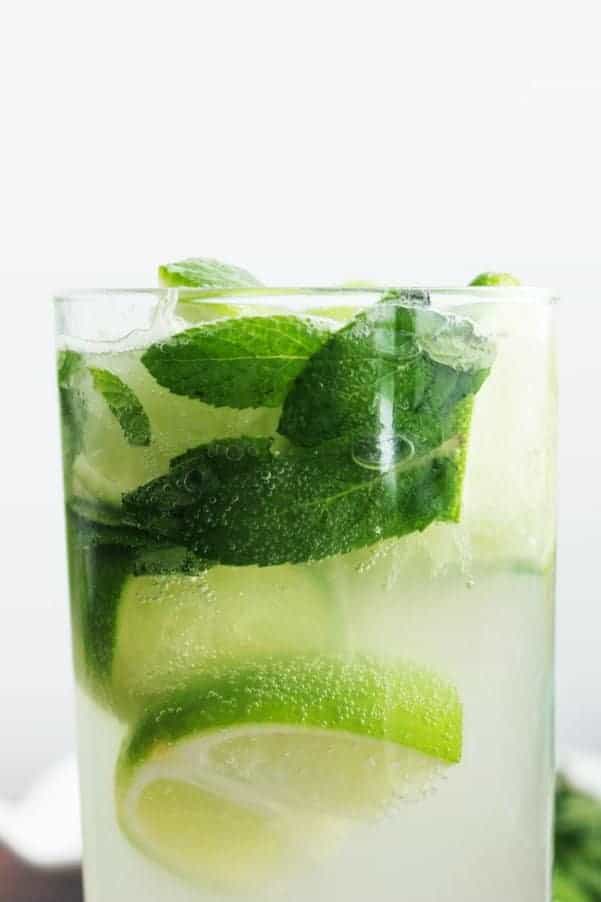 Time to get serious now with some great whiskey cocktails, and first up is this modern take on a Whiskey Sour from The Gastronom.  Flavoured with grapefruit, orange bitters and of course, whiskey, this is one of the more grown up of the Irish themed cocktails.
Jeez, I do love a mule cocktail and this twist on a classic from Fox and Briar speaks to my soul!  The vodka is replaced with Irish whiskey and those copper mugs keep the cocktail refreshingly cool.
So, you've been drinking all day, had some food, and now you are looking for a night cap!  These last few Irish themed cocktails are the perfect way to round off St Patrick's Day!
This cocktail from The Rustic Foodie is perfect for those sweet toothed amongst us!  This is an Irish twist on an Italian dessert....in cocktail form!
Keeping to the coffee and Bailey's theme is this colourful latte from Giraffes Can Bake.  This is an awesome pick me up guaranteed to help you keep the party in full swing!
I couldn't finish this list of awesome Irish themed cocktails without including a classic Irish coffee. The Spicy Apron has travelled far and wide to find you the perfect Irish coffee, and I couldn't think of a better way to end Paddy's Day!
I hope you have all found some inspiration for this list of Irish themed cocktails and it encourages you to step away from a pint of Guinness, if just for one drink!
If you are after some more cocktail inspiration, then give my Caesar Brunch Cocktail a try! And be sure to check out these Spooky Halloween Cocktails!