Last Updated on August 2, 2020 by Slow The Cook Down
Savory Cheesecake with Balsamic Onions is the perfect appetizer when you need to feed a crowd. Made with Ricotta and blue cheese, this savoury vegetarian starter is easy to make and packed full of flavour.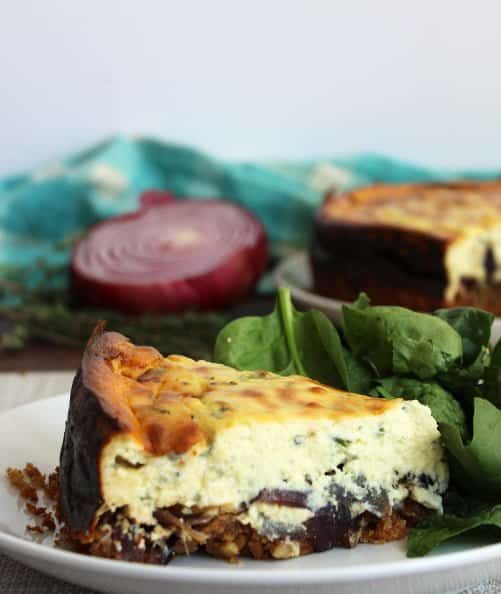 Come Dine With Me Savoury Cheesecake
I first stumbled across savoury cheesecake during my (slight) obsession with 'Come Dine With Me' a few years ago. I like a cheesecake, but I'm much more of a savoury person so this was right up my street! Savoury Cheesecake is something that I've been making a few times a year, adding a little or taking a little away each time - this is truly a tried and tested recipe!
What is a Savory Cheesecake?
A savory cheesecake is just a baked cheesecake, but with savory ingredients and no added sugar. It is made with ricotta and cream cheese, but the base is with a savoury cracker, rather than a sweet biscuit, and blue cheese and herbs are mixed in, rather than fruit and sugar. Rather than a dessert, savory cheesecake makes for a great appetizer or light lunch.
How to Make a Savory Cheesecake
The great thing about the savoury cheesecake is that it can be made ahead of time. I always do one at Christmas that I can whip out at any point for a tasty lunch or starter. You can make the cheese mixture separately and keep in the fridge overnight to let the flavours develop before putting it all together, or, you can make it up and it will keep for around three days in the fridge.
If you can't find oat cakes for the base, you can use other savory crackers or gluten free ones - just get as plain as you can, rather than use flavoured ones. I used stilton as the blue cheese, but you could used gorgonzola or danish blue for a creamier, subtler taste. The balsamic onions really add something special to this appetizer, but if you are short of time you can leave these out and just have the base and the cheese filling.
This savory cheesecake is totally decadent. The cheese mixture is rich and creamy with the sharpness of the stilton punctuating it. The addition of the balsamic red onions lifts the whole dish and adds an additional texture and sweetness. The base is crumbly with an earthiness from the walnuts and oats that perfectly sits against the sharpness of the stilton and balsamic onions.
If you are looking for something a little sweeter, then check out my Baked Lemon and Blueberry Cheesecake and pop over to see my Beetroot and Gorgonzola Tart for another savory cheese appetizer.
Savoury Cheesecake with Balsamic Red Onions
Savory Cheesecake with Balsamic Onions is the perfect appetizer when you need to feed a crowd. Made with Ricotta and blue cheese, this savoury vegetarian starter is easy to make and packed full of flavour.
Print
Pin
Rate
Ingredients
3

red onions

caster sugar

1.7

ounces

balsamic vinegar

(50ml)

7.9

ounces

oat cakes

(225g)

2.65

ounces

walnut halves

(75g)

5.3

ounces

salted butter

(150g)

3

eggs

8.8

ounces

ricotta

(250g)

8.8

ounces

mascarpone

(250g)

7

ounces

soft cheese

(200g)

0.8

ounces

chives

finely sliced (25g)

leaves

from 5-8 sprigs of thyme

5.3

ounces

stilton

(150g)
Instructions
Preheat the oven to 200º

Peel the red onions, cut into quarters and lay on a foil lined baking tray. Drizzle over a little olive oil, a pinch of salt and a couple of pinches of caster sugar, then pour over the balsamic vinegar. Put in the oven. After 30mins, using a fork break up the onions and give them a good mix around. Put back in the oven for about 30mins until they are soft. Leave to one side to cool and then discard any tougher layers of skin and roughly chop.

Turn the oven down to 180º

While you are waiting for the onions, you can make the base and filling.

Put the oat cakes and walnuts in a bowl and using a pestle or rolling pin, break them up until you have fine crumbs. Melt the butter in a pan and add to the crushed mixture. Mix well so that all of the crumbs are coated in the butter. Tip the crumbs in to your tin and spread evenly. Put in fridge for at least 30mins.

In a bowl, add the eggs, ricotta, mascarpone and soft cheese. Mix together until smooth. Add in the chives, thyme and a couple of pinches of pepper, then crumble in the stilton. Mix well and leave to one side.

Take the cheesecake base out of the fridge and place the chopped onions over the top in an even layer. Pour over the cheese mixture. Place in the oven for around 45minutes until the top has browned and the mixture is firm, with a little wobble.

Let it cool slightly, run a sharp knife around the edge and serve.
Notes
Made using a 30cm springform cake tin
Nutritional values are based on one of eight servings
Nutrition
Calories:
525
kcal
|
Carbohydrates:
31
g
|
Protein:
17
g
|
Fat:
58
g
|
Saturated Fat:
31
g
|
Cholesterol:
190
mg
|
Sodium:
683
mg
|
Potassium:
305
mg
|
Fiber:
2
g
|
Sugar:
13
g
|
Vitamin A:
1795
IU
|
Vitamin C:
6.8
mg
|
Calcium:
280
mg
|
Iron:
2.3
mg