Last Updated on October 26, 2020 by Slow The Cook Down
Get ready to entertain your guests with these spooky Halloween cocktail recipes! From witches to vampires and Harry Potter to Black Widow, there is something to make everyone's party start with a bang! Thank you to all my food blogger friends who shared their fiendishly creative cocktails!
First up are some awesome cocktails to welcome your guests when they arrive...
This green Halloween Sangria is the perfect make ahead pitcher!
Who wouldn't love to be greeted by a Bloody Bellini?! This gruesome Prosecco cocktail from Giraffes Can Bake is sure to delight and horrify your guests!
The Flaming Dragon's Blood Cocktail from The Flavor Blender will set your world on fire...quite literally! This daiquiri cocktail is a real show stopper!
The Halloween Spooky Screwdriver from Culinary Ginger is a festive twist on a classic. I love the layered black vodka!
Halloween wouldn't be halloween without witches...and I'm pretty sure witches like cocktails...
The Witches Brew Halloween Cocktail is such an awesome colour, and I love that rim! This recipe from the Chunky Chef uses melon liqueur and citrus flavors for a super tasty spooky drink!
The Witch's Heart cocktail is a real show stopper! This spooky halloween cocktail from The Flavor Blender is topped off with dry ice for maximum impact!
What do witches like? They like poisoned apples! I love the colour of this Poisoned Apple Cocktail from Cooking with Curls!
The last of our witches cocktails is the Melted Witch Martini from 3 Yummy Tummies. Such a fun idea and I love that colour!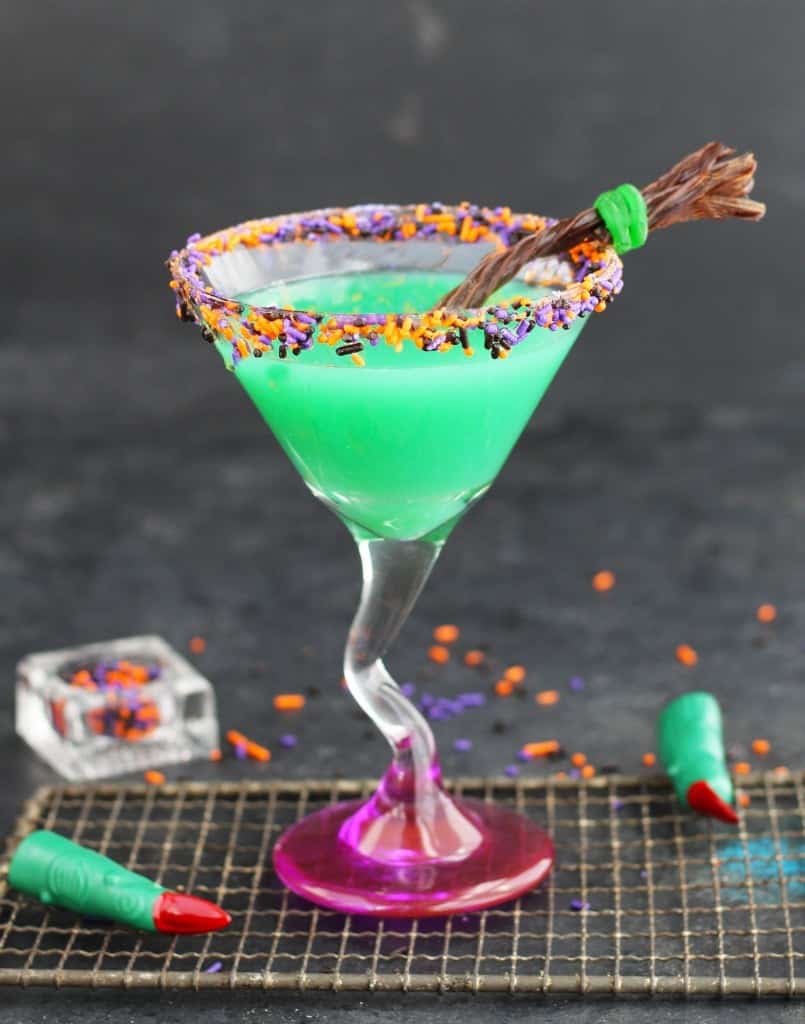 A spooky Halloween cocktail wouldn't be as spooky without some spiders....
The first arachnid themed cocktail is from Crayons and Cravings. The Black Widow Venom Moonshine is sweet and spicy - serving with spiders is optional!
Giraffe's can Bake brings us this awesome Black Widow Cocktail. This gin based drink shimmers in the moonlight!
What Halloween would be complete without everyone's favorite wizard...?
These next two Harry Potter inspired cocktails are from Gastonom Blog, and first up is this Bourbon Butterbeer whisky cocktail - exactly how I like to drink my butterbeer!
Our second Harry Potter offering is this super colorful Polyjuice Potion. This potion can easily be multiplied so you can make a big cauldron!
Finish off your spooky Halloween cocktail night with these shimmery, color changing drinks...
In Crayons and Cravings own words...'Are you looking for a devilishly good cocktail recipe that captures the Halloween spirit? One that looks like you dredged a swamp? ' Ha! If you are, this Demon Juice is for you!
Last but not least is is the spectacular Purple Eater Colour Changing Halloween Cocktail. Elderflower and cranberry juice make for a tasty end of night treat.
What an awesome bunch of spooky halloween cocktail recipes!! Thank you to all who shared their creations!
If you are looking for more cocktail recipes, be sure to check these out!
Stay safe out there....